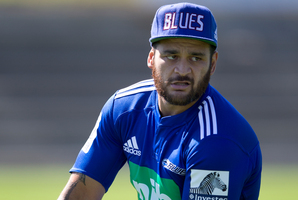 Piri Weepu has a hole in his heart, the most likely cause of the clot which caused him to have a stroke.
A scan revealed the condition yesterday and the 30-year-old is likely to undergo minor surgery to correct it.
A Blues spokesman said team doctor Stephen Kara would talk to a specialist next week about the next steps in the halfback's recovery.
However the former All Black is expected to be able to resume his playing career.
When the dramatic news was announced this week, Kara said a heart issue was the most likely cause of Weepu's stroke, which he believed happened on March 1, the day after the Blues v Crusaders match and the day Weepu flew with the team to South Africa.
"Probably 40 per cent [of the population] have these but don't know about them ... he would undergo minor surgery to correct that," Kara said yesterday.
While in South Africa, Weepu played against the Bulls and Lions — his condition was initially diagnosed as a migraine — and he played against the Cheetahs on his return to Auckland before a scan showed he had suffered a stroke to the left side of his brain.
The stroke caused Weepu to struggle with his speech. On the day he flew to South Africa, Weepu slurred his words like he was drunk for approximately two hours before the symptoms disappeared. He had also complained of headaches and nausea. The speech issue reappeared later in South Africa.
"You wouldn't know talking to him," Kara said. "It was only the fact that he felt his speech was slower and he had to think about his words before he was talking to other people which made us get a scan."
Bryn Hall has replaced Weepu for tomorrow's match against the Highlanders at Eden Park.
- APNZ