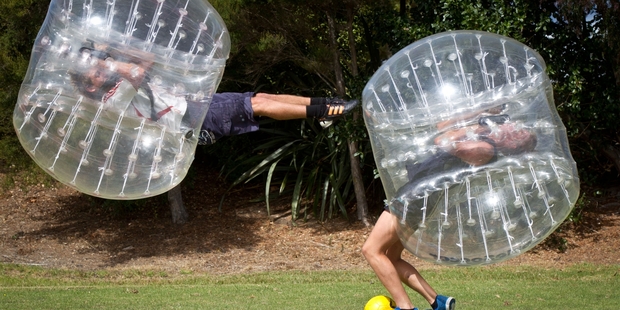 It's football, but not as you know it. There's grass, there's a ball, but there are also large inflatable bubbles encasing every player.
Bubble Soccer, which now has championships in Europe, has reached our shores. And those wanting to bounce and bump their way to the goal took part in an open day at Albany Domain in Auckland yesterday.
Cody Piper, 20, said the event was suggested to him on Facebook. He plays regular football in Warkworth, but he decided to give it a go.
"It was just to get an idea of what it's like," he said. "It was really fun, it was awesome.
"There's goals and a football. There's rules, but a lot of it is just hits. It's just about carnage, basically."
Katrin Hahn, director of Kiwi Bubble Soccer, said the game had a growing base in Europe.
She thought it could be a success in New Zealand too.
While the bubbles are mostly hired out for parties at the moment, she hoped to grow the brand into a sport with leagues, she said.