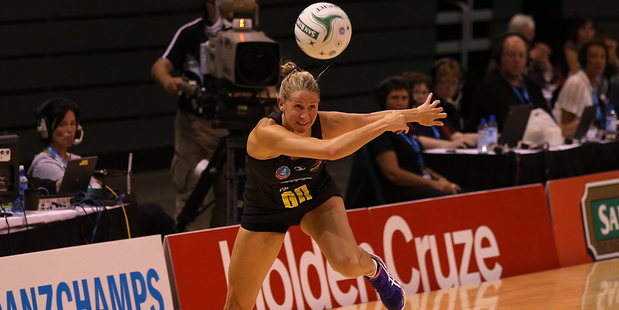 Magic 49
Vixens 44
----
Other round 4 ANZ Championship results:
Steel 66-65 Fever
Swifts 53-48 Firebirds
There can be no doubt about it now.
Any lingering questions over whether the Magic are serious contenders in the transtasman league have been well and truly expunged following a confident 49-44 win over the Vixens in Melbourne today.
Sitting top of the table heading into the clash, there were some that remained unconvinced of the Waikato-Bay of Plenty side's finals potential as they had yet to face an Australian challenge.
Their performance against a powerful Vixens line-up settled all of that. Exceptionally well-prepared, the Magic produced a patient and, for the most part, composed performance to grind out an impressive win. Extending out their lead at every break, the Magic absorbed several fightbacks from the Vixens, but on each occasion were able to respond with a flurry of their own.
Magic captain Casey Kopua, who in tandem with Leana de Bruin rattled the Vixens attack line with their strong presence in the goal circle, said her side were determined not to let their structure fall apart against the Australian sides.
"We didn't want to be a team that just won in New Zealand against New Zealand teams, so to come over here and win all four quarters in Australia you've really got to celebrate that," she said.
Magic coach Julie Fitzgerald spoke during the week of Kiwi teams facing a "mental block" across the Tasman, putting her side's poor strike rate - albeit much better than the other New Zealand teams - down to attitude. She said it was important the Magic took to the court knowing they can beat the Vixens - a message Kopua said the team took on board.
"It's just our attitude towards how we approach it. The court is the same the posts are the same, the game is no different. We just need to give it our best and have confidence in our gameplan and worry about the result later."
Kopua was one of the stand-outs on court for the Magic and was particularly influential in the final spell as an spectacular blocked shot, then an intercept on consecutive Vixens' possessions gave the visitors a 10-goal lead with just under eight minutes remaining on the clock. The Vixens responded with one last push, but a late settler from shooter Ellen Halpenny put the game out of reach for the home side.
Despite a dominant defensive performance, it was midcourter Grace Rasmussen who earned the player of the day accolades, having worked relentlessly all afternoon to dictate the tempo in the Magic attack end. Unwanted by the Mystics this year, Rasmussen has been the standout midcourter over the opening rounds of the competition and must surely now be featuring once again in Silver Ferns selection discussions.