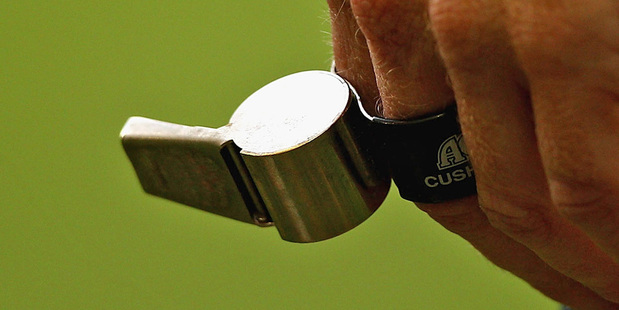 A club rugby player has been handed a 20-week ban for stomping, before the season in Dunedin has even officially started.
Taieri forward Eti Tofiga was given the ban after a hearing in front of an Otago Rugby Football Union judicial panel on Wednesday night.
The Taieri club was to meet last night to consider whether it would lodge an appeal against the sentence, one of the longest dished out in Otago rugby in a decade.
Tofiga was involved in an incident in a match between the Taieri premier 2 side and Toko last Sunday.
The match, played at Peter Johnstone Park, was for the Ken Bloxham Memorial Trophy, an annual encounter between the two clubs for which former All Black Bloxham played.
Tofiga stomped on the head of Toko forward Adam Knight late in the game. Tofiga was not sent off but was taken off the field by Taieri management.
Taieri club captain Mike Casey said it was a bad incident, and Tofiga had shown a lot of remorse at the hearing. Mr Casey said it was completely out of character for Tofiga, and the player could not explain why he did it.
The player did not wish to comment further.
Knight, who only played the final quarter of the game, said he was satisfied with the way the Taieri club had handled the incident.
A melee broke out late in the game when a Taieri player objected to being cleaned out at the breakdown, Knight said.
The referee blew his whistle and the fighting stopped. Within a couple of seconds, Knight's head was trampled on by Tofiga.
Knight was taken from the field and given seven stitches for a cut of about 10cm.
He hoped to get the stitches out next week.
Knight, a former Otago sevens player, normally plays rugby for the Southern club, and was playing for Toko only because Bloxham was his uncle and Knight wanted to play in the match.
He spoke to Tofiga after the match and at the hearing on Wednesday, and accepted his apology.
With the premier 2 season lasting 18 weeks, Tofiga's ban will run into next year.
Otago Rugby Football Union general manager Richard Kinley did not wish to comment on the incident.
He was waiting for the official report and could not make a comment until he received it, he said.
Rugby bans
Some examples from Otago club competitions.
2004: Foul play - six months.
2008: Referee abuse - two weeks
2008: Foul play and referee abuse - 10 weeks.
2009: Biting - 13 weeks.
2009: Fighting - six weeks.
2010: Stomping - four weeks.
2010: Fighting - eight weeks.
2014: Stomping - 20 weeks.