Blues almost steal it but coach furious at TMO decision.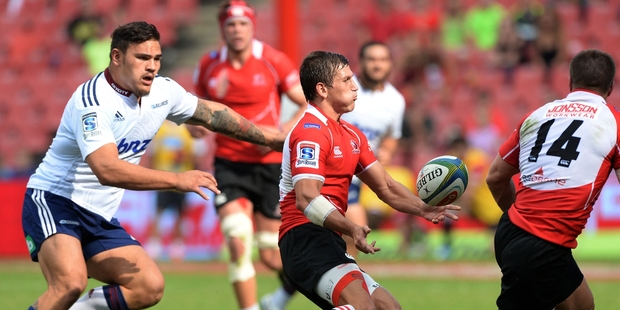 Blues coach John Kirwan is looking for answers from referees' boss Lyndon Bray after getting what he feels is a rough deal from match officials for the third game in a row.
Kirwan's team's incredible comeback from 20-0 down against the Lions in Johannesburg fell just short yesterday morning, the home side clinging on for a 39-36 victory thanks in part to a controversial decision by Australian referee Stuart Berry and his South African television match official Johan Greeff as the Blues were in the midst of their fightback.
With the score 23-15 on the hour mark, Berry, after consulting with Greeff, awarded a try to fullback Coenie van Wyk, despite Charles Piutau's cover tackle knocking the ball from midfielder Deon van Rensburg's grasp and over the try-line in the build-up.
More changes tempting for Blues coach
Blues team page
Such acts are usually considered knock-ons - there was also a hint of a forward pass in the last movement - but instead of a defensive scrum, the Blues found themselves 30-15 down. They weren't out, though; the Blues scoring another three tries through Frank Halai, George Moala and Benji Marshall to almost steal it at Ellis Park.
That's three weekends in a row where we have had calls go against us. It's frustrating.
In the end they ran out of time - the Blues' now traditional slow start, combined with yellow cards to prop Charlie Faumuina and lock Tom Donnelly, and Lions' first-five Marnitz Boshoff's excellent goalkicking, conspiring against them.
Describing the TMO's decision as wrong and strange, Kirwan added: "There are a lot of calls going against us.
"It came at a critical time when we were getting into our flow.
"I will be asking Lyndon Bray for a very strong explanation on that. Last week there was a double movement which went against us, which everyone admitted was a double movement.
"That's three weekends in a row where we have had calls go against us. It's frustrating."
In their defeat to the Bulls in Pretoria last weekend, prop Marcel van der Merwe was awarded a try - which earned the home side a bonus point - despite it being the result of a clear double movement.
Against the Crusaders a week earlier the Blues were on the receiving end when Colin Slade was awarded a try despite an obstruction and Blues wing Tevita Li had one ruled out thanks to a questionable offside decision. While Kirwan was right to be frustrated with the officials, his team once again left themselves with too much work to do.
The inability of his forward pack to assert itself - there were more scrum and lineout problems - meant his rearranged backline didn't fire a shot until the second half.
"I don't know if it's a slow start - it's more not taking our opportunities," Kirwan said. "It was 0-0 after 30 minutes so we're doing some things right, it's just that errors mean we're not turning that into points."
Skipper Luke Braid's assessment was more damning: "We've had a problem with that [starting].
"As a team we've got to learn to get tougher and play more clinically when the going gets tough."
- APNZ