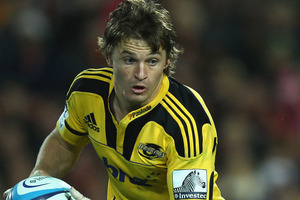 Beauden Barrett versus Willie le Roux. What a treat.
The Hurricanes and Cheetahs operated to type in a playful Super 15 romp at a near empty stadium in Wellington.
Barrett, the match winner from No. 10 in this game, and the fabulous le Roux are magicians who don't pull rabbits out of hats as they might on the test stage.
Barrett is so amazing as a test substitute he almost plays himself out of the contest with Aaron Cruden to start.
The freewheeling Cheetahs break the mould of South African rugby. Le Roux obliterates the stereotype of their backs.
It is difficult to recall any South African player with the imagination and playmaking skill of le Roux, the Cheetahs' No. 15.
Ninety years ago, Bennie Osler began a test career that created a rather dour mantra for South African fly halves and the Springboks probably feel their record over the years is impressive enough to avoid the need for a risky revolution.
Le Roux is used as an outside back in tests but - and this isn't an entirely original thought - every time you see him play as he did in this game, the number ten screams out.
There are no guarantees he would have the head for the heights as a test pivot of course.
But le Roux at flyhalf could be revelation and give the Springboks a whole new level of attack. It wouldn't need to stop there - one man can have a wide influence as Osler proved all those years ago.