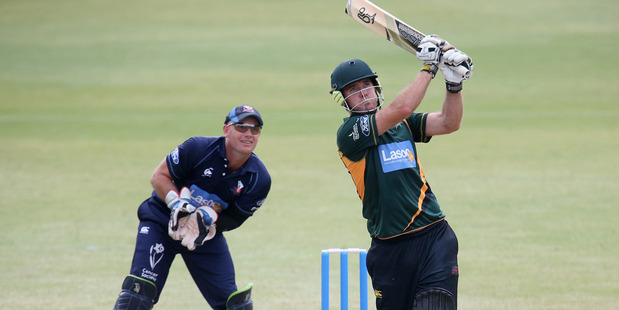 Auckland lost their lead in the domestic 50-over competition when well beaten by Central Districts at Eden Park yesterday.
Having sent CD in, Auckland found themselves seeking 304 which would have kept them top after four rounds.
CD's opener Jamie How hit 156 off 139 balls, sharing a second-wicket record stand against Auckland of 142 with Dane Cleaver, who made 60.
Auckland's response never really got going. They lost five for 47 at one point and were dismissed at 190 for a 113-run defeat. Only Anaru Kitchen, with 59, and tailender Matt Quinn, who hit 36, passed 30.
Northern Districts went top with a tight three-wicket win over Wellington in the capital.
The hosts were rolled for 154. However former test seamer Mark Gillespie rocked ND early, finishing with four for 22 off 10 overs, but Daryl Mitchell's 52 got ND home.
In Dunedin, Otago's 327 for nine - including a provincial record stand of 129 for the first wicket against Canterbury by Iain Robertson and Hamish Rutherford - provided the foundation against Canterbury.
However 82 from opener George Worker and a rapid, unbeaten 52 from captain Peter Fulton got Canterbury up for a fine four-wicket win in the final over.
• Points: ND 13, Canterbury 11, CD 10, Auckland 10, Wellington 6, Otago 4.