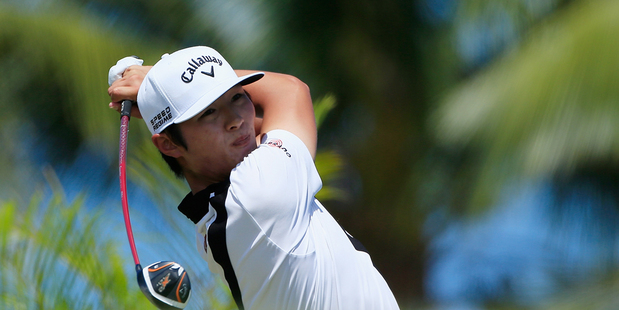 New Zealand's Danny Lee has had his best finish on the PGA Tour with a second placing at the Puerto Rico Open today.
American Chesson Hadley finished two strokes ahead of Lee at 21-under following a five-under 67. Making his 13th PGA Tour start, the 26-year-old birdied the final two holes to become the first rookie winner since Jordan Spieth in July in the John Deere Classic.
Lee, who began the week in 168th place on the Fed Ex Cup Money List, carded rounds of 67, 68, 66 and 68 at Trump International and is projected to climb 93 places to 75th on the standings.
The Dallas-based Kiwi banked the biggest payday of his career when he earned US$378,000 (NZD$446,000) easily beating his win of the WNB Classic on the Web.Com Tour in 2012 where he earned US$124,000.
But the former US Amateur Champion couldn't hide the fact that he was "a little bit disappointed" in coming up short of his first win on the PGA Tour.
"I really felt like I did my best. I gave it my best, but Chesson was just playing rock solid," Lee told the PGA Tour website.
"He made a couple of good up-and-downs from bad tee shots. When he plays like that, it's just really hard to catch. He just didn't make any silly mistakes at all."
The 23-year-old was even through nine holes of his final round after two birdies and two bogeys before the turn.
His up and down round continued with a birdie at the par four 10th and a bogey at the par four 12th before he picked up four birdies on the final six holes for a strong finish.
Lee's top-10 finish means he has secured a place in the field at the Valspar Championship in Florida in world-class company.
He said he was "really nervous" this morning as he was in contention to win and looking to become the first Kiwi to win a title on the PGA Tour since Michael Campbell in 2005 at the US Open.
"I didn't really sleep at all. I woke up at 5:30 in the morning without no reason. I guess I was really nervous, and I think because of that I wasn't playing my best at the first nine holes.
"But after that I got a lot more relaxed and I just kept believing in myself, I can do this, I can do this. And was starting to make more birdies at the end, which I'm really pleased with that."
Lee feels like he is in good shape to contend again next week in Florida. If he can carry on this form and win next week he would book his place at Augusta National for his second Masters appearance.
"I'm really happy I can go down there and have another opportunity of a good week, and I'll look forward to it."