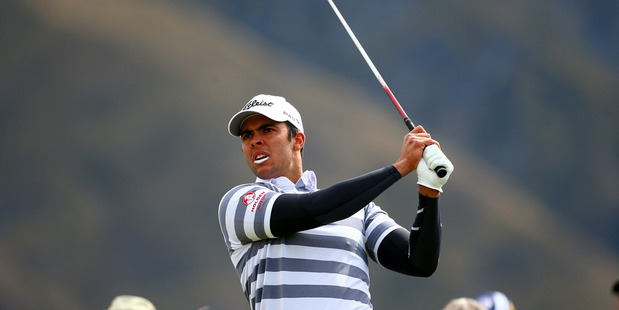 For the second time in as many tournaments, an Australian golfer has used the New Zealand Open to make a name for themselves.
Amateur Jake Higginbottom won the Open at Clearwater in 2012 and Dimitrios Papadatos has blitzed the field to take this year's crown by four strokes from Kiwi Mark Brown at The Hills near Queenstown today.
There was no tournament last year due to rescheduling and Papadatos fired a six-under 66 in his final round today to finish the event at 18-under.
The 22-year-old had never led a professional tournament heading in to the final round and you expected he would feel the pressure at some stage today but he never faltered.
He collected five birdies down the back nine as he thrived being in the final group on the course.
Poor conditions threatened to mar the final day as rain struck on more than one occasion but it didn't hurt Papadatos who banked $153,000 for his first win as a professional.
It was another frustrating national open for Brown, who despite shooting a three-under 69 on the final day, didn't hole enough putts on the front nine to put any serious pressure on Papadatos.
Te Anau's David Klein finished third at 13-under for the tournament as Kiwi Richard Lee claimed fourth place alongside Australian Ashley Hall at 12-under.
Aucklander Ryan Fox claimed a share of sixth, alongside Australian Terry Pilkadaris at 11-under.
Papadatos' victory means the search for a Kiwi champion continues with Mahal Pearce the last local to win the New Zealand Open when he triumphed at Middlemore in 2003.
The revamped Open had a pro-am format this year and the best ball pro-am competition was won by Australian Brody Ninyette and amateur Sam Hamilton.
- APNZ