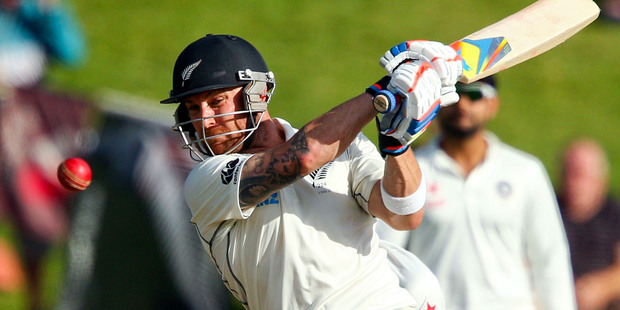 New Zealand 192 & 571-6
India 438
New Zealand lead by 325 runs
Brendon McCullum and B-J Watling have delivered New Zealand cricket fans arguably the greatest fightback in the country's test history.
The pair posted a world record 352-run partnership for the sixth wicket.
Their effort overtook the previous best set by Sri Lankans Mahela and Prasanna Jayawardene against India at Ahmedabad in November 2009.
They were given a standing ovation by the 2200 strong crowd, many of whom remained until the end to get a closer glimpse of their heroes.
Records tumbled almost as quickly as the spectators through the turnstile, racing to catch what will already be remembered as one of New Zealand's finest sporting recoveries if the hosts achieve a draw or a win.
McCullum has achieved New Zealand's second highest test score of 281 not out. He will resume on the final day with the prospect of overtaking Martin Crowe's 23-year-old 299 record and become the country's first player to a test triple century.
Watling was adjudged lbw for his highest test score of 124 to Mohammed Shami at 446. It was the second delivery with the third new ball. Watling spent 367 balls and almost nine hours at the crease.
Speaking after the game, McCullum said he was "a little bit tired" after his marathon session at the crease.
"The last hour was a bit of a daze in all honesty. Thankfully Neesh was playing some shots and ticking the board over because I was just hanging in there.
"The body is a bit sore, but when you're scoring runs it doesn't hurt so much."
Despite an incredible batting performance that could see him post NZ's highest ever test score tomorrow, McCullum paid tribute to his partners.
"You set out game plans and strategies and you have dreams and they don't always live them but today I thought B-J and myself were able to put ourselves in a really strong position. The way Neesh came in and created that later partnership also means we are really pleased. "
He said the team now had to make some decisions overnight.
"We are 1-0 up in the series and have worked really hard to get back into this contest. The decisions we have to look at is if we push on for a test win or consolidate the lead knowing how far out of the game we were.
"Those are the decisions we have to mull over overnight and they were decisions we didn't have a couple of days ago. It is nice knowing you have worked incredibly hard to put yourself in that position."
Whatever happens tomorrow, these were McCullum and Watling's finest hours as test batsmen, responding to what seemed an insurmountable situation at 94-5, still requiring 152 to make India bat again; it fulfilled the very definition of 'test'.
If New Zealand save or win the test, the McCullum/Watling effort will join the debate as which is the country's greatest match-saving or winning partnership.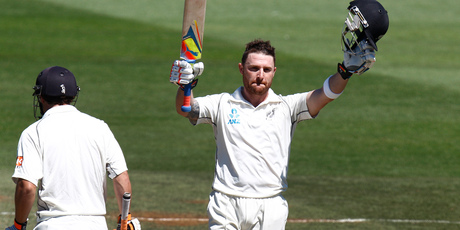 In those circumstances it would be fair to mention their heroics in the same breath as Martin Crowe and Andrew Jones against Sri Lanka at Wellington in 1991, Mark Greatbatch and Martin Snedden against Australia at Perth in 1989, Jeremy Coney and Ewen Chatfield against Pakistan at Dunedin in 1985, Bruce Taylor and Ken Wadsworth against the West Indies at Trinidad in 1972 and Mark Burgess and Bob Cunis against Pakistan at Dhaka in 1969.
Indian wicketkeeper and captain Mahendra Singh Dhoni even brought himself on to bowl after tea before the arrival of the third new ball, such was the desperation.
Jimmy Neesham added pep with 67 not out at the end in a stand of 125 for the seventh wicket. He could become the 10th New Zealander to score a century on debut.
McCullum became the second New Zealand batsman to score three double centuries after Stephen Fleming and the first to complete the feat in back-to-back tests. He timed a boundary through mid-wicket, further underlining his leadership of the team this summer. His teammates gave him a standing ovation from the balcony as part of the New Zealand resurrection.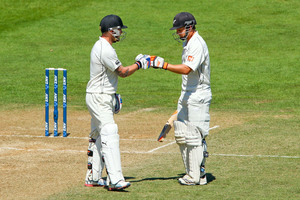 Five overs beforehand B-J Watling delivered his third test century.
A serene Watling acknowledged the crowd after clipping a half-volley through square leg for four to take his team to 384 for five. Watling received the same treatment from the team as his skipper.
McCullum and Watling have taken the prospect of saving the test against India from the realm of fantasy to reality. In addition to the other accolades, it is the highest New Zealand partnership for any wicket against India, taking over from the 271 made by Jesse Ryder and Ross Taylor for the fourth wicket at Napier in 2009.
SCOREBOARD