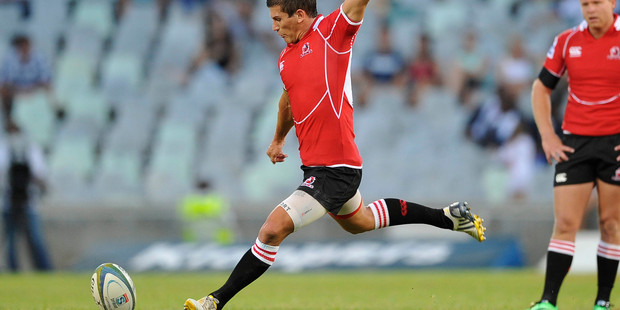 Marnitz Boshoff of the Lions during the Super Rugby match between Toyota Cheetahs and Lions at Vodacom Park on February 15, 2014 in Bloemfontein, South Africa. Photo / Getty
Marnitz Boshoff kicked a last-minute dropped goal and all the Lions points to steal a 21-20 win at the Cheetahs in the Super Rugby season-opener in South Africa on Saturday.
Flyhalf Boshoff landed his match-winner from near halfway at Free State Stadium to give the newly promoted Johannesburg-based Lions a victorious return right at the death after they were relegated in 2012 and missed last year's southern hemisphere competition.
Marnitz booted six penalties and the drop in a game where the Cheetahs outscored the Lions two tries to nil and led 17-9 early in the second half after wings Raymond Rhule and Cornal Hendricks went over.
The Lions dragged it back and Boshoff was on target from way out in the 79th minute for a surprise away win over one of the playoff teams from last season.
Wing Rhule scored the Super Rugby season's first try 24 minutes in off a counterattack from the Cheetahs started by Springboks fullback Willie le Roux. Returning from injury, South Africa flyhalf Johan Goosen converted to add to an earlier penalty, but the Cheetahs couldn't shake off the persistent Lions, who were only a point behind at 10-9 at halftime through Boshoff's boot.
The Cheetahs' other wing, Hendricks, scored his first Super Rugby try 10 minutes into the second half in another attack inspired by the free-running Le Roux but despite further penalties by Goosen and Elgar Watts, the Lions were always close behind because of Boshoff.
He clawed the Lions to victory when he sent a high, curving drop from just inside the Cheetahs half between the poles with the seconds ticking away, resulting in coach Johan Ackermann banging his fists on the desk in delight in the team box.
The Cheetahs launched a desperate final attack in the dying moments but came up short to start 2014 with a loss to the team most commentators picked to struggle badly this season because if its year-long absence from the tournament.
___
Lions 21 (Marnitz Boshoff 6 penalties, dropped goal), Cheetahs 20 (Raymond Rhule, Cornal Hendricks tries, Johan Goosen 2 conversions, penalty, Elgar Watts penalty). HT: 9-10