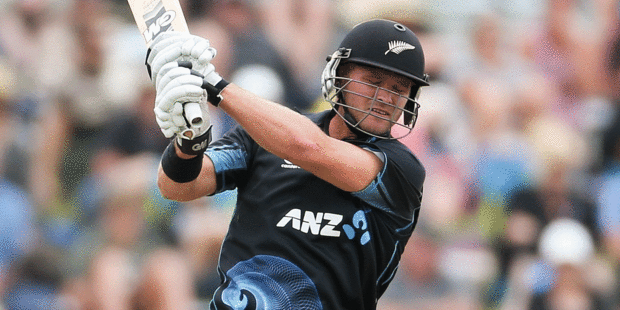 Indian cricket great Sunil Gavaskar believes the evolution of Corey Anderson makes New Zealand a major threat for next year's 50-over World Cup.
The Northern Districts all-rounder shot to international attention following his world-record one-day century against the West Indies on New Year's Day and a collection of follow-up efforts against the travelling Indian side have helped prove it wasn't a fluke.
Anderson was snapped up for $866,000 by the Mumbai Indians in last night's Indian Premier League auction, which has added to the euphoria around the 23-year-old.
With the start of next year's World Cup, that will be co-hosted by New Zealand and Australia, only one year and a day away, Gavaskar was part of a mini-tour across New Zealand today to help promote the tournament.
Following New Zealand's 4-0 win over the touring Indians in their recent one-day series, Gavaskar said Anderson's all-round abilities had given Mike Hesson's team the right balance.
"I think they're a good side, they've always been a very good side but I think maybe the one thing that they have lacked was a good all-rounder and I think they've got that all-rounder now,'' Gavaskar said in reference to Anderson.
Gavaskar, who won the 1983 World Cup with India and made more than 10,000 runs in test cricket, also believed New Zealand's depth in their seam attack was a crucial asset.
"In the old days they possibly just had one bowler who was a five-wickets-in-an-innings bowler. But now they've got two or three bowlers who can take five wickets in an innings and that makes a difference as far as winning matches is concerned.''
The Black Caps will meet India in the second test of their two-match series at the Basin Reserve in Wellington tomorrow and Gavaskar is in New Zealand to commentate on the tour.
He was swamped with people keen for autographs and photos in Wellington, which showed how popular he still is with cricket fans, even at 64.
"Indians are around everywhere in the world,'' Gavaskar said. "Also, quite a few Kiwis have seen me, way, way back so it was good to be able meet up with them and all I can say is I'm blessed, considering I played 20-25 years back, to have somebody coming up to me to ask for an autograph.''
During today's whistle-stop visit to Wellington, which took place at Midland Park on lambton Quay, mayor Celia Wade-Brown spoke about how pleased the capital was to be a home-away-from-home for England who will play two pool games at Westpac Stadium during the World Cup.
Therese Walsh, head of New Zealand's arm of the tournament, was also in attendance with the World Cup trophy, alongside former international players Dean Jones, Sir Richard Hadlee, Martin Crowe and Gavin Larsen.
- APNZ