Enough is enough and team is playing well without their disruptions anyway.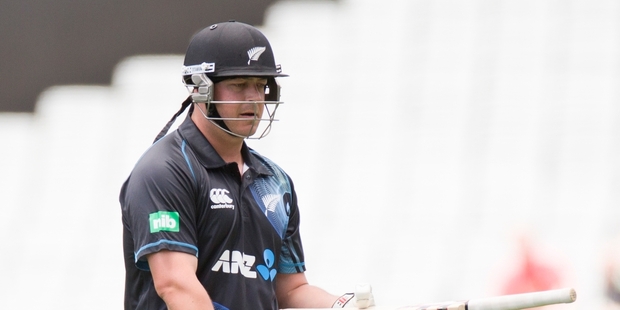 It's time for New Zealand Cricket to cut loose troublesome duo Jesse Ryder and Doug Bracewell.
The national body will this morning release a statement on the status of an investigation into the pair's boozy night out that ended in Auckland early last Thursday morning - just hours before the first test against India began.

Depending on which level of misconduct the pair are deemed to have reached, penalties range from a fine and reprimand up to tearing up their contracts. The pair are serial offenders who have been given plenty of rope.
NZC must act decisively, for a couple of reasons.
First, enough is enough. This is far from the first time the pair, together and individually, have been in hot water, and let off relatively lightly. Lessons have not been learned.
Second, their timing was awful.
New Zealand were on a roll, having dusted one of the world's best teams, India, 4-0 in their ODI series and both players were in the first test squad.
Bracewell was cover for the fast-medium bowlers; Ryder as backup in case Ross Taylor had to leave with his wife due to give birth any day.
Their irresponsibility would have left the squad in a jam, particularly in Bracewell's case, as he broke his foot that night and is out of cricket for a time anyway.
The players had a great win, the spirit is high, the discipline is strong.
Ryder and Bracewell, and their antics, simply don't fit any longer.
It doesn't mean they should necessarily be gone for good.
Ryder, for all his rare talent, is 29 and is on a second life, after taking 22 months away from the national team to sort his life out.
Bracewell, 23, could return, once he figures out that with his ability life as an international cricketer is somewhat better, and more lucrative, than the alternatives.
NZC could decide to just not pick the pair.
Bracewell has a national contract; Ryder a domestic one with Otago, whom he joined this season to start afresh.
But that's not enough without an accompanying clear message from NZC.
The New Zealand squad are understood to have had a gutsful, especially when the spotlight should be on the game, not late-night nonsense.
Cricket Players' Association boss Heath Mills was unable to comment on the issue yesterday while a misconduct process is in place, but coach Mike Hesson made his views abundantly clear.
"We need to make sure all our players prepare themselves accordingly for test cricket and at the moment we don't have confidence that that's the case," he said yesterday.
"We have faith in our players that they make good decisions around their preparation."
Ryder's drunken behaviour, caught on camera, on the night of the tied ODI in Auckland on January 25 won't help his situation either.
However, one well-placed source yesterday believed only last week's incident can be considered, rather than the cumulative weight of past misdemeanours.
That may be technicality talk.
Ryder and Bracewell don't belong because the players they must stand alongside don't want them around. The New Zealand team, at least for now, is better off without them.
Dumb and dumber
* Jesse Ryder and Doug Bracewell will find out their fate today when New Zealand Cricket makes a statement on its investigations into their late- night behaviour last week.
* The pair face a range of sanctions, up to termination of their contracts.
* Ryder has been dumped from the squad for this week's second test against India; Bracewell's broken foot, suffered on their night out last Wednesday, has ruled him out of cricket for a period.