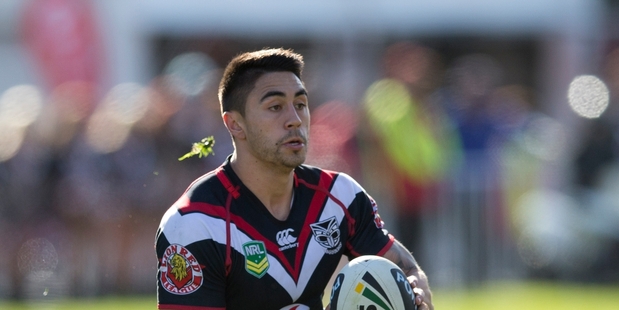 The full line-ups for the Auckland Nines will be revealed today, with a host of superstar names.
The likes of Warriors stars Shaun Johnson and Sam Tomkins and Sharks duo Todd Carney and Paul Gallen have already been confirmed, with the Warriors, Knights, Sharks, Storm and Raiders having already named their squads.
The squads of the remaining 11 clubs will be released at 7 tonight. Rabbitohs halfback Adam Reynolds, Kiwis centre Shaun Kenny-Dowell, and Broncos and Queensland forward Sam Thaiday are expected to be among the headliners.
Notable absentees will include the Roosters' Sonny Bill Williams and Storm stars Billy Slater, Cameron Smith and Cooper Cronk.
The Storm yesterday released a squad boasting Kiwis Matt Duffie and Tohu Harris but with the club's "Big Three" stars conspicuous by their absence.
Tournament rules stipulate at least 12 of each club's top 25 salary-capped players as well as one top-five player must take part.
Roosters legend Brad Fittler's attendance is expected to be confirmed, with the 41-year-old coming out of retirement to play in the tournament.
Tournament director David Higgins said he was very happy with the number of major stars who will attend.
"Most clubs are taking this seriously and having a crack at winning it."
Shaun Johnson, Warriors
Having just extended his contract at the club until 2017, the superstar playmaker will captain a power-packed squad. He can step off both feet, fire pinpoint passes off both hands and, vitally, has blazing speed to rival any outside back, making Johnson THE player to watch this weekend.
Sam Tomkins, Warriors
The Nines will be the first chance for Warriors fans to see their million-dollar man. The piggy-banks of owners Eric Watson and Sir Owen Glenn won't have been smashed by luring the Wigan star, but the club has invested heavily and will expect a return.
Willie Mason, Knights
Kiwi league fans have a soft spot for the giant Aussie. A classic pantomime villain, Mason was the fall guy for one of the greatest hits of all time - delivered by David Kidwell at a test at Mt Smart in 2006 when Mason had appeared to mock the pre-match haka. Mason was flattened by Kidwell's massive shoulder charge but he has made a habit of bouncing back to his feet throughout his stellar career, and he should attract a cult following at Eden Park this weekend.
Todd Carney, Sharks
A "bad boy" who has never really done anything all that bad (dodgy driving and fooling about after a few beers is about it), the heavily tattooed Cronulla and NSW star is one of league's most brilliant players.
Paul Gallen, Sharks
A player fans love to hate, the New South Wales captain has a nasty habit of coming out on top in his sporting clashes with Kiwis. He's already seen off All Blacks Hika Elliott and Liam Messam in the ring and will make his pro boxing debut against Herman "The Herminator" Ene-Purcell this month. Nines should suit one of the game's true hard men.
Sam Thaiday, Broncos
A beast on the field and a true gent off it, Slammin' Sam Thaiday has been a mainstay of the champion Queensland and Australia teams for a decade. Another mobile back-rower who will enjoy the extra on-field space, Thaiday is also putting in the yards off it by linking with official charity the Rising Foundation, which provides mentoring for at-risk youth.