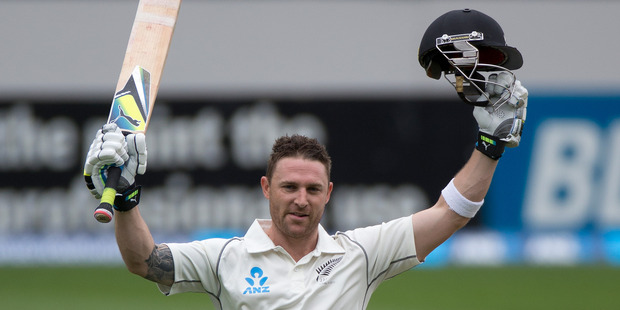 New Zealand captain Brendon McCullum insisted he had no regrets over his contentious decision not to enforce the follow on during the first test win over India at Eden Park.
While the result worked out well for McCullum - New Zealand winning a third successive test in a fourth day thriller by 40 runs - he said he was confident at the time it was the right move for his bowlers.
India were dismissed 301 runs behind New Zealand and when the hosts were rolled for 105, leaving a fourth innings target of 407, it seemed McCullum had opened the door to a late charge.
"You can't regret any decisions you make," he said tonight.
''You put thought into it, you speak to the bowlers and senior players, you try and garner as much of a majority as you can. I never regretted it for a moment.
''I said at the outset I thought we had the bowlers to get 20 wickets and it was a matter of giving them the most amount of rest to do it."
New Zealand's second innings batting flop put a spoke in the works, but McCullum still felt a 400-plus lead would be sufficient, while respecting India's batting strength and depth.
McCullum added that he'd ''hate" the thought of being left a small fourth innings target of 150-200 and facing left arm spinner Ravindra Jadeja on the final afternoon.
A spectacular assault by Indian captain MS Dhoni and Jadeja threatened to tear the game away from New Zealand late in the day.
The pair added 54 in 34 balls in a fearless attack on new ball pair Tim Southee and Trent Boult.
However their dismissals proved the final nails for India's hopes, and they were dismissed for 366. Jadeja hit out once too often, being caught at mid on; Dhoni's attempted pull dragged the ball down to his stumps.
Earlier Shikhar Dhawan's second test hundred, and a fine 67 by Virat Kohli had India in charge, but New Zealand's persistence, the odd rash shot and one poor umpiring call - when umpire Steve Davis gave Ajinkya Rahane lbw for 18 off an inside edge - paid off.
Dhoni gave credit to New Zealand and reflected on a terrific advertisement for test cricket.
New Zealand wicketkeeper BJ Watling equalled a New Zealand record nine dismissals in a test - joining McCullum, from the Pakistan test at Napier five years ago - and now has the world record of six for the fourth innings of a test.
McCullum is expecting India to hit back hard when the second test starts at Wellington's Basin Reserve on Friday.
The result - New Zealand's 10th win in 53 tests against India - means India have lost five out of six internationals on tour, and tied the other, an ODI, also at Eden Park.