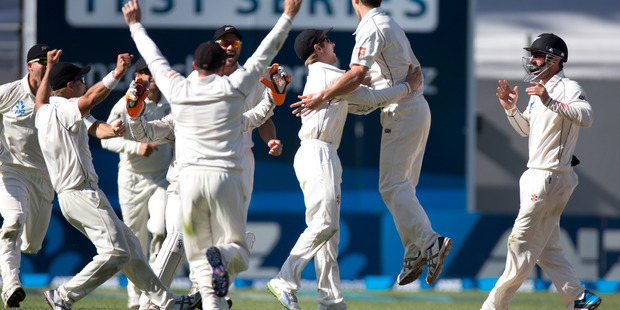 New Zealand 503 and 105
India 202 and 366
New Zealand win by 40 runs
New Zealand have triumphed by 40 runs over India in a riveting final session on the fourth day of the first test with both teams putting up cases for victory.
It's the hosts third test win in a row after two over the West Indies. They have a 1-0 lead in the series with the next test starting Friday.
Neil Wagner, Trent Boult, Tim Southee and wicketkeeper B-J Watling starred for the hosts, taking the 10 wickets between them.
Wagner finished with four for 62, Boult three for 86, Southee three for 81 and Watling six catches as New Zealand kept their nerve during a chase where you didn't need nail scissors.
Watling produced nine catches for the match, a record by a New Zealand keeper. He equalled McCullum's record of nine dismissals (eight catches and a stumping) against Pakistan in 2009.
Wagner had match figures of eight wickets for 126 after his four-wicket bag in the first innings.
India had a number of partnerships but the 54-run effort for the seventh wickets between Ravi Jadeja and Mahendra Singh Dhoni kept India alive in the chase. However, the dismissal of Jadeja (caught Ish Sodhi at mid-on off Boult for 26 off 21 balls) and Dhoni (played on to Wagner for 39) were key in the visitors' demise. Wagner avoided a return crease no ball by millimetres.
For India 407 was going to be a record-breaking chase. Their best for 38 years has been 406 for four, set against the West Indies at Port of Spain.
Watch video highlights from the test here:

The final innings of the game ebbed and flowed. India produced a 126-run partnership for the third wicket between Shikhar Dhawan and Virat Kohli, taking them to 222 for two. New Zealand took three wickets for 48 inside 20 overs to dominate the back end of the afternoon session, leaving 137 runs to win and five wickets to get before stumps.
Wagner secured the key wickets of Dhawan (115) and Kohli (67), both caught behind, while Boult had Ajinkya Rahane lbw for 18 with the first delivery of the new ball.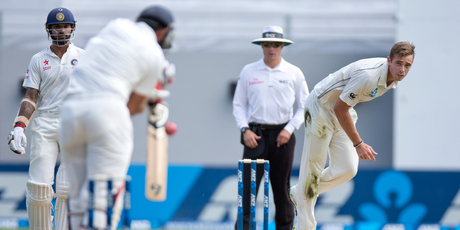 Hot spot showed the ball had hit Rahane's bat before his pad but with no Decision Review System there was no reprieve for a howler from Umpire Steve Davis.
India went to lunch at 180 for two on what was an excellent batting wicket. The New Zealand bowlers persevered, Southee's coaxed an edge from Cheteshwar Pujara for 23 with a short of a length ball on the line of off stump.
The earlier advance of Dhawan and Kohli was effortless. Dhawan wasn't in the same rollicking form that took him to the fastest century on debut off 85 balls against Australia in March, but he was set nonetheless, especially when the ball drifted onto his pads.
SCOREBOARD