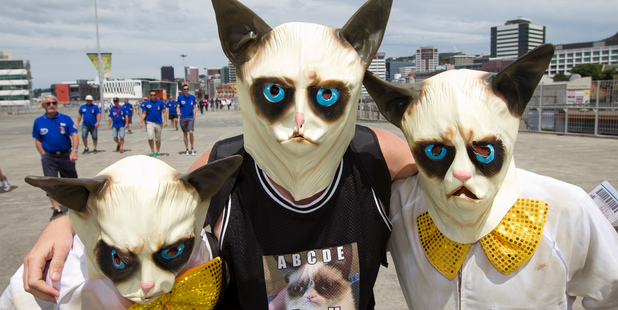 Celebrations for New Zealand's biggest costume party are under way for die-hard sevens fans.
Revellers in the Capital have begun to file into the Cake Tin, lighting up the streets with colourful and patriotic costumes.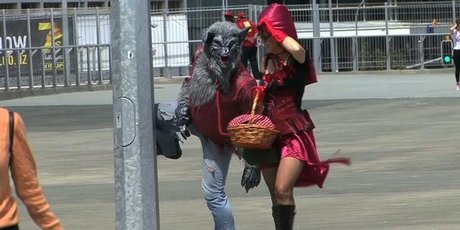 Mexicans complete with large sombreros, cow costume with plastic gloves as udders and a group of prettily dressed peacocks are some of the costumes featured at this year's tournament.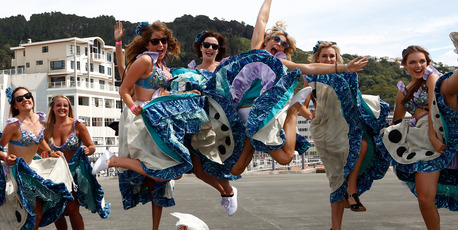 For Spina bifida sufferer Robert Wilson, choosing a costume to roll with his mode of transport meant donning a rather electrifying outfit.
The 49-year-old Wainuiomata man has attended every Sevens tournament in Wellington for the last 14 years.
Mr Wilson, who uses an electric chair or mobility scooter to get round, this year decorated his chair with lights and dressed as a convict preparing for the end.
"I normally come in a mobility scooter. This year I've got a power chair, so I thought I can build an electric chair type thing."
Mr Wilson's past costumes include Thomas the tank engine, and also Santa Claus complete with a sleigh.
And like most other Kiwis here today, Mr Wilson is rooting for his home team to successfully defend their title over the next two days.
For three romantics, picking their Sevens outfits was about bringing "the love" to Wellington.
Sandro D'Angelo, 27, Jack Arden-Browne, 22, and Neil Wakefield, 30, made the trip up from Queenstown for the tournament.
Dressed as Cupid complete with gold and silver glitter and drawn on love hearts, the trio were determined to make the most of today's fine weather in their barely-there outfits.
"We did have bow and arrows but then we got mugged at the gate because we looked like Cupid terrorists," Mr Wakefield said. "We're going to share the love with Wellington," he said.
- APNZ