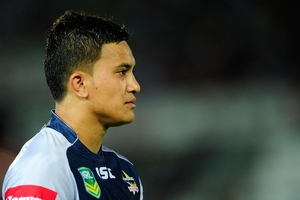 North Queensland have sacked rising star Wayne Ulugia barely a week before their opening NRL pre-season trial after several "conduct breaches".
Cowboys chief executive Peter Jourdain would not go into too many details yesterday, but revealed the former Junior Kiwi had committed "continual conduct breaches, which came despite the player receiving professional guidance from inside and outside the club, [that] could no longer be tolerated".
He said the Cowboys would now search for a player to add to their 2014 roster just days before new coach Paul Green was set to name his side for their opening trial against Brisbane in Redcliffe on February 8.
Auckland-born utility back Ulugia, 21, made his NRL debut late last year and played a total of four games, including North Queensland's dramatic finals loss to Cronulla.
He scored six tries including a double on debut against Newcastle - only the second brace by a Cowboy in his first NRL match.
Ulugia was named in Samoa's 2013 Rugby League World Cup train-on squad.
"We will not be going into details of the breaches," Jourdain said.
"Wayne is aware he has not met the standards required and despite efforts from both he and the club to get him on the right track, the problems continue to occur.
"There's no doubt he has enormous talent as a footballer and we have seen that develop through his time at the Cowboys, but we have a code of conduct that has to be followed.
"If Wayne wishes, we will continue to help him ... even though he will no longer be a part of our NRL squad.
"We hope that at some stage in the future he can make a success of his rugby league career."
- AAP