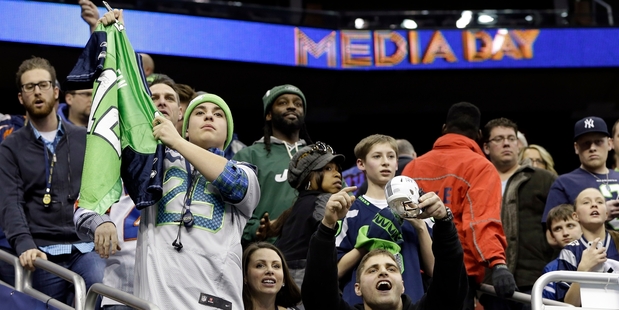 Super Bowl players from the Denver Broncos and Seattle Seahawks answered thousands of questions yesterday at Media Day, a chaotic question-and-answer session where the outrageous becomes commonplace.
What began years ago as a day for Super Bowl team photographs to be taken has evolved into a ticketed event for fans five days before Monday's big game as well as a television show for the NFL Network and a place where over-the-top costumes and questioners beg for the cameras' attention.
"I see the Super Bowl has become a huge event for the world, international people, cameras, a lot of diversity - I think it's great," said Seattle defensive back Richard Sherman.
The event was moved from the Super Bowl stadium to make certain weather would not be a factor since it will be the first Super Bowl staged in a cold-weather outdoor venue.
So at the home arena of ice hockey's New Jersey Devils, fans paid US$25 ($30) for tickets - and US$40 to park - to watch interviews, each person getting a small plastic radio receiver allowing them to tune in to short-wave broadcasts of some of the comments from the arena floor.
Some players are on microphoned podiums but many are not, often forcing reporters to cram against one another to get within reach to ask questions or hear responses.
And then there are the unique inquisitors, the one dressed as a caped superhero for a children's network or the one whose key question is "What do you have to say to your fans in Mexico?"
"This atmosphere is crazy," said Denver running back Knowshon Moreno. "There are so many media members around. It's just really cool to be a part of this. You don't want to take anything for granted. You want to kind of relish this moment, be happy you are here, but at the same time you want to come out with a big win."
Cheerleaders from NFL teams posed with television personalities from stations around the United States.
Players often strategically dropped a sponsor-logo towel over the number on their team jacket to make it harder to be recognised by those unfamiliar with their faces.
The child who will run the tee for kickers on to the field asked for advice from Seattle coach Pete Carroll, who said he should try his best and have confidence.
Denver receiver Demaryius Thomas was asked about his gameday breakfast - egg whites, fruit and proteins - and what advice he had for children.
"Be respectful to your elders and do your bookwork and you will be successful," Thomas said. He passed on "Beyonce or Rihanna?"
Denver quarterback Peyton Manning was asked who his favourite was among the Real Housewives of New Jersey and if he began using the word "Omaha" in calling signals to lure an endorsement deal.
"Omaha has taken on a life of its own," Manning said. "It's the word I was given to use."
- AFP