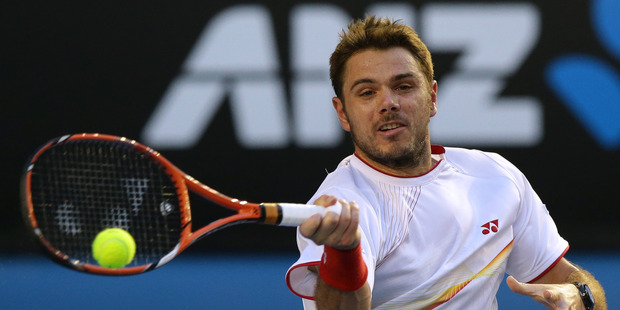 Stanislas Wawrinka of Switzerland. Photo / AP
The Swiss press yesterday hailed the "impossible exploit" of newly crowned Australian Open champion Stanislas Wawrinka, who has finally come out of the shadows of more illustrious compatriot Roger Federer.
The Swiss, who also upset three-time defending champion Novak Djokovic in the quarter-finals, capped a magnificent fortnight in Melbourne with his 6-3, 6-2, 3-6, 6-3 win over Rafael Nadal for his first major title.
"Giant", headlined Le Matin, including a signed poster of the player inside a 14-page spread dedicated to the "triumph" of the native of Saint-Barthelemy, a village renamed "Stan-Barthelemy" by its mayor yesterday.
"Stantastic", read the Neue Zuericher Zeitung. "Anyone who ... said 13 months ago that Wawrinka would shortly win a Grand Slam title would probably have been classified as insane," the Zurich daily said.
If Wawrinka, 28, had until recently lived in the shadow of 17-time grand slam winner Federer his marketing value has now surely exploded, estimated the newspaper.
"The triumph of work, courage and humility," said the Tages Anzeiger, the other major German-speaking paper, of the man who had ironically called himself "the Swiss player who loses".
Wawrinka was now being touted as a more reliable role model for young Swiss people, said French-speaking daily 24 Heures.
Wawrinka was also praised for being "loyal", as he plans to follow his grand slam success by playing in the Davis Cup against Serbia at Novi Sad this week, while Federer has always been reluctant to play first rounds.
Le Matin urged Federer to follow Wawrinka's example.
- AFP