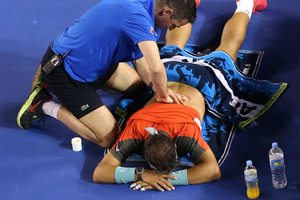 Stanislas Wawrinka took Australian Open fans to task after sections of the crowd booed Rafael Nadal for taking a medical timeout during the dramatic men's singles final.
The newly crowned champion said it was "not that nice'' that fans booed the Spanish world number one, who was in clear discomfort with a back injury during the second set.
Read more: Tennis: 'I'm sorry to finish this way' - Nadal
"I think it was not that nice, especially Rafa. We all know that he's a great guy, a great player,'' Wawrinka said. "He's always a really fair player. He always tries his best. He is always fighting.''
The Swiss added: "Yeah, was quite strange that the crowd started to boo him.''
Wawrinka also had a long argument with the chair umpire when Nadal left the court for treatment, insisting he should be told the nature of his opponent's injury.
"I just wanted to know what was the problem of Rafa. Because before he asked for the physio, he was checking his feet. I didn't know really what was the problem,'' he said.
"Normally when the physio is coming on the court, the umpire always tells the opponent why he's coming. He didn't want to tell me, so I got (annoyed).''
Wawrinka eventually won the match in four sets to claim his maiden grand slam title, in his first major final.
After the match, Nadal played down the ugly crowd reaction.
"You will never hear me talk badly about the crowd here,'' he said.