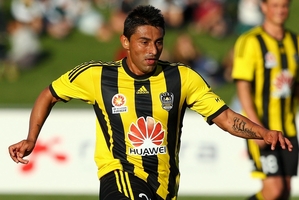 You'd think Ernie Merrick would be happy to see the back of the Brisbane Roar. Three times this season, Merrick's Wellington Phoenix have played the A-League leaders and three times they have lost 2-1, with all Brisbane's winning goals coming in the final 20 minutes.
It was the same story on Friday night as the Phoenix succumbed in the 87th minute to a freakish long-range effort from Roar midfielder Luke Brattan as the humid conditions ran down Wellington as much as the home side at Suncorp Stadium.
Given you only have to meet each team three times during the A-League season, the Phoenix faithful may be pleased they've got through their Brisbane quota with 11 games to go, but not Merrick.
"I'm looking forward to playing them again in the finals," he said confidently. Friday night's loss snapped a five-match unbeaten run for the Phoenix after Stein Huysegems' 36th-minute goal was cancelled out by two stunning Brisbane strikes in the second half from 18-year-old debutant Devante Clut and Brattan.
Wellington undoubtedly missed the creativity of Carlos Hernandez and Kenny Cunningham as the pair were away on national team duty with Costa Rica as they continued their push for a place at this year's World Cup.
Merrick, as he has remained all season, was surprisingly upbeat after the defeat and said the quality of performance was what he desired, even though it didn't produce a victory.
"I just couldn't fault the boys," Merrick said. "You're playing against a team that is by far and away the best in the league and they had a few players out, we had a few players out, so it was pretty evenly-matched and away from home, it was a great performance."
Although they remained ninth after the loss, the Phoenix are close to pushing their way in to the top six - but Merrick needs to find a way to get more out of strikers Tyler Boyd and Jeremy Brockie, who have been plagued by inconsistency this year. Boyd made three promising substitute appearances during the New Year period but has struggled to make an impact as a starter in the past two weeks. He was yanked at halftime in Brisbane as Merrick conceded: "We weren't getting a great deal out of Tyler."
Boyd's replacement Leo Bertos offered even less; he looked like a man who was playing his seventh minute, not his seventh game, of the season as he struggled to adapt to the pace of the game.
Wellington host Adelaide United at Eden Park on Saturday in a home-away-from-home contest and, in a quirk of the draw, it will be the first time the sides have met this season despite the Phoenix having already played Brisbane and the Western Sydney Wanderers three times.
Hernandez and Cunningham will come back in to the selection frame, while 17-year-old midfielder Matthew Ridenton, who missed the trip to Brisbane with a knee problem, should also be available.
- APNZ