Phoenix midfielder planning to bring family to Cake Tin from Spain so they can watch him play in A-League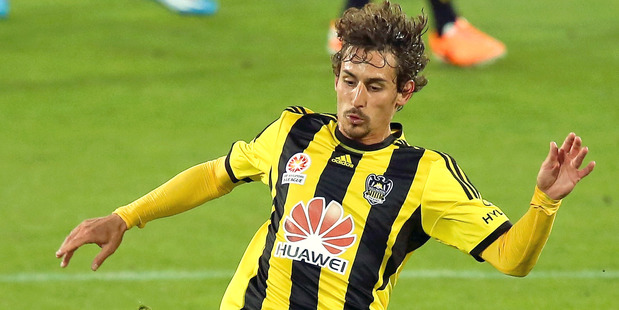 Albert Riera's stay in New Zealand has gone on so long his family are asking him when he is going to come home.
But rather than worry about booking tickets back to Spain, the Wellington Phoenix midfielder has plans to bring his family to the capital so they can watch an A-League encounter at the Cake Tin next season.
Riera arrived in Auckland as a backpacker looking to spend some time abroad, but the former paramedic, who played only semi-professionally in Spain, ended up turning out for Auckland City from 2011-2013 in the ASB Premiership.
A solid performance against the Phoenix in a pre-season friendly last year caught the eye of new Phoenix coach Ernie Merrick, who offered the slick-passing Riera a trial.
Eyebrows were raised when he was signed in October, given he took up one of the club's five precious import slots, but it has been the best signature Merrick has secured during his time at the club.
Riera has played in all 15 Phoenix games this season, including 11 starts, and it's now hard to imagine the side's midfield without him. He is remarkably composed on the ball, rarely coughs up possession and is an accurate tackler.
Riera, who was born in Barcelona but grew up an hour inland, said his family did not expect him to be successful Downunder.
"Because I came here for one year, it's been nearly three years now," he said. "So I just surprised them every year, more and more and they keep asking me, 'When are you going to just finish and come back here?'."
The 30-year-old provides a nice foil for the attack-minded Carlos Hernandez in the middle of the park and said he hoped his family could watch him in the flesh next year given he had just signed a contract extension that will keep him at the club until the end of the 2014-15 season.
"I would like them to stay here, we'll see next year, because they would love to stay here and come to Westpac [Stadium] and watch a game," Riera said. "Because they are just following online and it's not the same."
Riera said hearing from Merrick came as a shock and he admitted he was contemplating calling time on his career after he finished with Auckland City.
"When I got the call from Ernie - and he is a really good coach - I thought: 'If he's seen something, it's probably that I can help, not as much as I'm doing now but coming off the bench.' So I was really confident with him.
"To be honest I never thought of it. I was just so happy to be playing and now I'm 30 years old, so it's something that I was more likely to think about retiring instead of stepping up."
Merrick said during the week that the club was looking for a backup for the Spaniard, a crazy turn of events given he was signed as an insurance policy for Wellington's other midfielders.
As the Phoenix look to continue their charge towards a spot in the top six, they will meet the Roar in Brisbane tonight. Riera will have to make do without his running mate Hernandez, who is on international duty with Costa Rica.
But as Riera continues to surprise this season, who would bet against him delivering another consistent display?
- APNZ