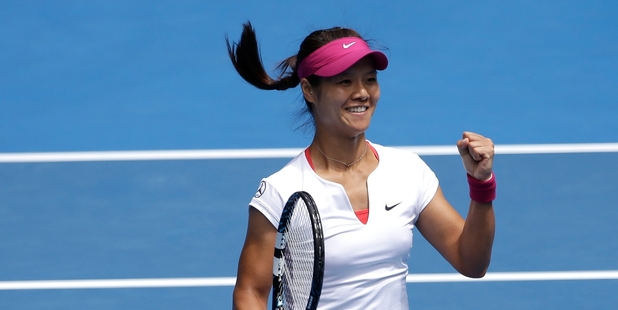 Li Na celebrates winning her way to the semifinals yesterday. Photo / AP
Tomas Berdych dominated early and then withstood a comeback attempt by third-seeded David Ferrer in a 6-1, 6-4, 2-6, 6-4 win last night that earned him a spot in the Australian Open semifinals for the first time.
No 7 Berdych will play the winner of the quarter-final between three-time defending champion Novak Djokovic and No 8 Stanislas Wawrinka.
Berdych clinched the 3-hour, 4-minute match on his second match point when Ferrer's return of serve went wide. The 2010 Wimbledon champion has now reached the semifinals of every major, breaking a sequence of three quarter-final defeats at Melbourne Park.
Berdych has now won three of his last five matches against Ferrer, a long-time top five contender.
Eugenie Bouchard reached the semifinals in her first trip to the Australian Open, beating 2008 French Open champion Ana Ivanovic 7-5, 5-7, 6-2 yesterday to set up a showdown with fourth-seeded Li Na.
The result means two-time Australian Open finalist Li, who beat Flavia Pennetta 6-2, 6-2 in an earlier quarter-final featuring two women who will turn 32 next month, will have to face a teenager for the third time in the tournament.
The 19-year-old Bouchard, the first Canadian to reach the Australian Open semifinals, played with composure against former No 1-ranked Ivanovic.
Bouchard went to the net 24 times and won 19 of those points. She broke Ivanovic's serve seven times, including the last game, and had to sit through a lengthy time out, when she was leading 4-3 in the second set, while her opponent received treatment.
Despite the relative speed of her success, Bouchard didn't experience any "pinch me" moments.
"It's something I've been doing since I was five years old and working my whole life for and sacrificing a lot of things for, so it's not exactly a surprise," she said. "I always expect myself to do well. I'm just happy to have gone through this step. I'm not done."
The WTA Tour's "Newcomer of the Year" in 2013, Bouchard is playing just her fourth Grand Slam tournament, having lost in the second rounds at the French Open and US Open last year and reached the third round at Wimbledon the only previous major where she'd managed back-to-back victories.
"She's definitely brave. She's young. She has nothing to lose," Ivanovic said. "I think she's a very great player with a bright future."
Bouchard, who will turn 20 next month, is the first Canadian woman to reach a Grand Slam semifinal since Carling Bassett at the 1984 US Open.
Bouchard was asked what it's like to be such a rarity in a country so passionate about ice hockey.
"Well, hopefully, they'll care a little bit more about tennis now," she said, admitting she couldn't really skate.
- AP