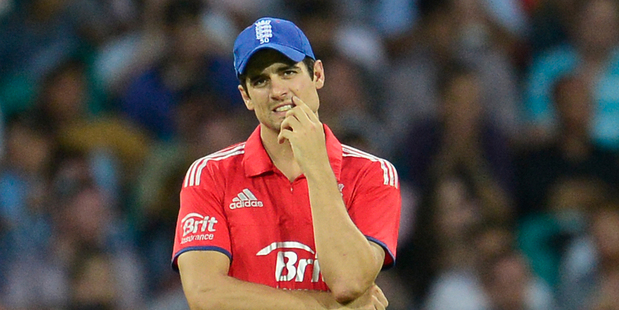 Alastair Cook is considering quitting as test and one-day cricket captain at the end of England's worst tour to Australia.
Cook will make a decision on his future after he returns home at the end of the one-day series next Monday, but he admitted it might be time for a new man to take charge of the team. Two weeks ago, in the aftermath of the 5-0 Ashes loss, Cook was adamant he wanted to carry on as captain, but yesterday he said the situation had changed following three more desperate defeats in the one-day series.
"We have kept losing games of cricket and I have not turned it around. I am going to have to make a decision on that when we take stock after the next two games. We have sat down and talked about a lot of things. I think there will be some changes. I think English cricket needs a bit of change as well.
"The last few months we have not played the cricket that we are capable of playing. We have to look at the reasons why. I can't answer that question [about his future] now and I don't know what I will feel like when I get home."
Cook has lost eight successive matches to Australia and is staring at the possibility of a second whitewash on the tour but will remain in charge for the last two ODI matches in Perth on Friday and Adelaide on Sunday.
"When you are a captain in Australia and you have lost in Australia for the past 3 months it is not a great place to be," Cook said. "I have got a job to do. I have to try and turn it around and win one of these games. I am competitive and I leave everything out on the pitch."
Cook has many virtues as a leader and is widely liked and respected. He came within a whisker of winning the Champions Trophy last summer and arrived in Australia seemingly untouchable as captain after the 3-0 Ashes win. But he is not an instinctive captain and has been out-thought, not just by Michael Clarke in the past six months, but also by Brendon McCullum in the two-test series that England played against New Zealand last year.
The job has drained him of energy and his batting form has crumbled.
Paul Downton, the new managing director of England cricket, told Cook in Melbourne two weeks ago that he had his backing to carry on.
Cook's decision will have major repercussions, not least in terms of the future of two of English cricket's biggest figures: batsman Kevin Pietersen and coach Andy Flower. It has become clear that if Cook and Flower, the director of cricket, stay in their roles, Pietersen's international career will be over.
He endured his leanest year in test cricket last year and with England planning to rebuild around younger players it is felt his potential to be a malign influence is a risk no longer worth taking. But if Cook stands down as captain in both forms of the game it might throw Pietersen a lifeline.
Flower and the England and Wales Cricket Board will want Cook to continue as there is no standout alternative as test captain. In one-day cricket Stuart Broad and Eoin Morgan are potential replacements.
Cook was crushed by England's one-wicket defeat in Brisbane on Friday, which may have been the tipping point. "I would not say it has been the most pleasant 48 hours for me," he said. "The last game on Friday took a lot out of us. No matter what anyone says that was a very tough defeat to take and whether we had a hangover today [Sunday night], I don't know. We tried not to but we did not play well enough."
Clarke was in the press conference room at the SCG while Cook was speaking. "Defeat takes a toll," he said. "It doesn't matter what form of the game you captain, when you're not performing well as a team then the captain is in the spotlight. But I don't think feeling sorry for an opposition captain is the right thing to feel. I'm here to help Australia have success and we've experienced a lot of defeats in the past couple of years."