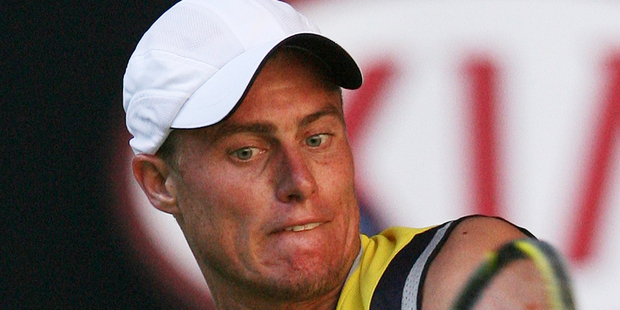 Golf great Jack Nicklaus won 18 majors, tennis legends Chris Evert and Martina Navratilova each captured 18 Grand Slam singles crowns and swimming superstar Michael Phelps amassed 18 Olympic gold medals.
But no one has ever played 18 consecutive Australian Open tennis championships before.
Not until Lleyton Hewitt steps on to Rod Laver Arena today to face Italian Andreas Seppi in the baseline warrior's seemingly endless pursuit of an elusive home major.
Runner-up to Marat Safin in 2005, Hewitt has returned to Melbourne Park year after year since becoming the youngest qualifier in history way back in 1997.
A month shy of his 33rd birthday, Hewitt ranks among the greatest survivors in Grand Slam history.
Only Americans Andre Agassi, who contested 21 straight US Opens, Jimmy Connors and Stan Smith, with 20 successive tilts in New York, have made more consecutive appearances at a single Grand Slam than Hewitt.
"When I stop playing, it's something I'll be pretty proud of, wherever it stops, whatever number," Hewitt said. "Eighteen in a row, and in singles main draw as well, I wouldn't have dreamt of that at my first one in '97 as a 15-year-old, that's for sure.
"I didn't think I'd be playing anywhere near 30. To still be going just before my 33rd birthday is something I'm happy with.
"There's a period there I had to battle injuries just to get out on the court here as well."
Showing no signs of slowing down, Hewitt has arrived in Melbourne in vintage form, unbeaten in six matches and oozing confidence after beating Roger Federer in Brisbane and Andy Murray at Kooyong.
Seppi, on the other hand, hasn't won a match all summer, losing to Marinko Matosevic in Sydney last week and to Hewitt's countryman Bernard Tomic during a three-match losing run at the Hopman Cup in Perth. But Hewitt is too wily not to respect the 25th seed.
"He's a tough competitor. He plays well from the baseline, doesn't miss a lot of balls out there. There's going to be a lot of long, gruelling rallies."
Victory for Hewitt would advance the former world No 1 to a second-round match on Thursday against either Dutchman Robin Haase or American Donald Young.
- AAP