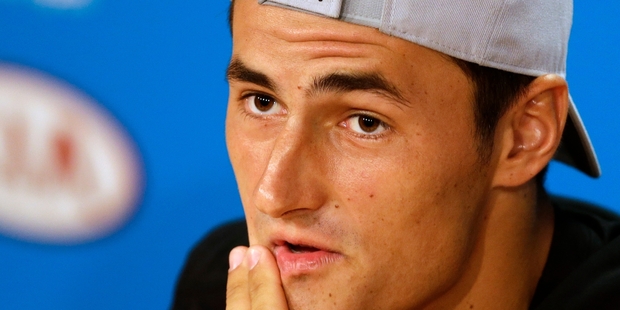 Bernard Tomic is clinging to his recent domination of left-handers as a source of hope that he can conjure one of the great Australian Open upsets against Rafael Nadal.
Tomic enters the daunting first-round showdown having won seven of his eight clashes with southpaws over the past 18 months.
"I don't mind playing left-handers," the 21-year-old said ahead of their prime-time clash at Rod Laver Arena tonight.
But there are left-handers and then there is Rafael Nadal, and Tomic knows upstaging the world No1 and 13-times Grand Slam champion is an altogether different proposition than beating the likes of Albert Ramos, Kenny de Schepper, Michael Berrer and Cedric-Marcel Stebe.
Nadal is coming off a 10-title haul last season and is desperate to add the Norman Brookes trophy to the French Open and US Open trophies he's minding at home in Mallorca.
"I've got a breakdown of what I need to do," Tomic said.
"His game is very unique and he's the best at what he does. So I need to play my game and just relax."
But after watching Juan Martin del Potro blow Tomic away in the Sydney International final on Saturday, Australian Davis Cup captain Pat Rafter cautioned the world No57 against relaxing too much.
Rafter said even the slightest lapse in concentration could spell doom for Tomic.
"I expect it will be a great match," Rafter said.
"I was really excited the way Bernie played in Sydney, how he backed that up and defended as well as he did.
"Obviously the finals didn't go to script for him. He played one loose game, del Potro played great from then on and gave him no chance," Rafter said.
"I hope that's a warning for him. You can't play one good game against these guys.
"If you give these guys a sniff, they'll jump all over you. Rafa is the best at that in the world, of not letting anybody back in the match.
"If you give him an opportunity, he'll take it.
"Bernie in the past has been a little bit up and down in these matches, has these lulls. He can't afford to have them."
Rafter, though, suspects Nadal will be dreading his first-round draw as well and gives Tomic a fighting chance of producing a boilover.
"If Bernie plays and keeps that intensity, he's going to be very difficult to beat. Rafa knows that," he said.
"Rafa is not happy with his draw. Bernard is not seeded, but he's a potential seed, for sure. He's one of those guys you don't want in the draw."
- AAP