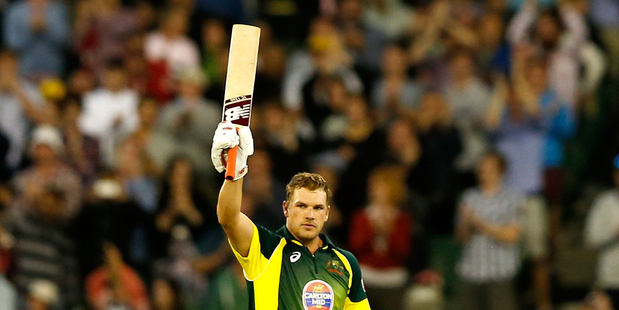 Aaron Finch made 121 in his second ODI century. Photo / Getty
Aaron Finch made his second century in one-day cricket internationals, sharing a 163-run opening partnership with David Warner that lifted Australia to a six-wicket win over England on Sunday in the first of a four-match series.
Finch made 121 and Warner 65 as Australia, in a carefully measured chase, ran down England's competitive total of 269-7 to finish on 270-4 in 45.4 overs.
The opening stand, which occupied 27.5 overs, allowed Australia to maintain the crushing superiority over England it displayed in winning the Ashes test series 5-0. And England once again contributed to its own demise, dropping easy catches and lacking sharpness in the field.
Captain Alastair Cook's wretched summer continued when he was dismissed for 4 from only the third ball of the match.
"I think you've got to get yourself in before you can do anything," Cook said. "We saw that with the way Aaron Finch and David Warner played.
"They got themselves in, established a partnership and, as that partnership builds, you can accelerate along the way. I think that's a fairly obvious thing to say.
"In our innings we kept building partnerships of 20 or 30, then got out again."
Finch outshone the usually aggressive Warner in the early stages of the Australian innings, reaching his half century off just 47 balls while Warner struggled with his timing and took 59 balls to reach his seventh one-day 50.
Finch's half century contained seven fours and Warner's three fours and a six but Australia never resorted to brutal methods in pursuing England's total. Its run chase was superbly paced and Finch and Warner were at their best through the middle overs as they kept up a flow of singles, readily available in the giant auditorium of the Melbourne Cricket Ground.
They were finally separated when Warner was caught by Ben Stokes off Joe Root's bowling in the 28th over, after facing 72 deliveries. Shane Watson, who had faced a lengthy wait for his turn at bat, then lasted only two deliveries before he was out for 0 as Australia momentarily stumbled to 165-2.
Finch restored the stability and momentum of the innings in a 72-run partnership with captain Michael Clarke which carried Australia within sight of victory. Just as it seemed he might carry his bat, Finch offered a catch to Gary Ballance from Stokes' bowling and was out for 121, compiled from 128 balls with 12 fours.
There was irony in the method of his dismissal because Ballance dropped an easy catch from Finch off Chris Jordan's bowling early in his innings which, if taken, could have altered the course of the match.
Jordan was particularly affected by England's lax fielding, seeing at least four catches go down from his bowling.
Warner also had a significant reprieve when he appeared to have been caught by wicketkeeper Jos Buttler from Stokes' bowling in the 14th over when he was on 22 and Australia was 82-0. After the square leg umpire indicated the ball had carried, Warner began to leave the field but was recalled when replays were re-examined.
Clarke wasn't able to see Australia home and was out for 43, caught by Cook, with 22 runs still needed.
George Bailey was 17 not out and Glenn Maxwell nine not out at the close.
"It's always good to get a good start to a series, especially at your home ground," Finch said.
"I think the way the wicket was, it swung around a little bit early so we had to really adapt to that and in the game of one-day cricket you need a bit of luck now and then. It was nice it went our way and it was nice I was able to go on and get a big score and contribute to a big partnership."
Garry Ballance made 79 and Eion Morgan 50 as England compiled 269-7, batting first on winnings the toss.
Zimbabwe-born Ballance was a surprise inclusion in the England side as it sought to bolster its batting strength in the first match of the series and after its humbling 5-0 defeat in the Ashes tests.
He took his 79 runs from 96 balls with five fours and a six, sharing an important 83-run partnership for the fourth wicket with Morgan, which stabilized England's innings after the early loss of Alastair Cook and Joe Root.
Cook's horror summer in Australia continued when he was out for four to the third ball of the innings and Root struggled for 23 deliveries to make 3 before he was out with England on 22-2.
Ian Bell was the first batsman to set about repairing the England innings after the loss of Cook and he employed a variety of shots, classic and improvised, in making 41 from 56 balls. He used the slog sweep to good effect when Australia introduced spinners Glenn Maxwell and Xavier Doherty early in the innings but was then bowled by Doherty attempting the same shot when England was 62-3.
Morgan and Ballance then combined in the most productive partnership of the innings, which endured from the 18th to the 32nd over, and gave solidity to the England effort through the crucial middle overs.
- AP