Federer says he'd like to see even more tennis greats bringing experience back to tour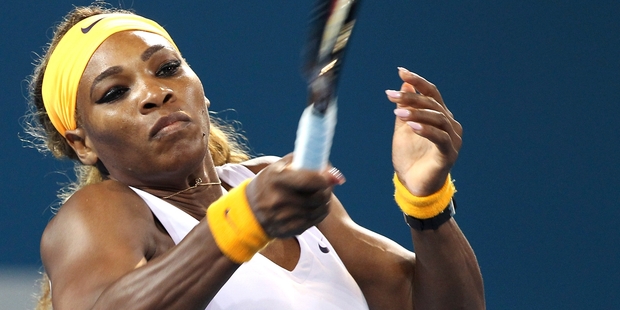 Serena Williams is confident she can end Victoria Azarenka's two-year reign at Melbourne Park. Photo / AP
Novak Djokovic and Roger Federer witnessed Andy Murray's drought-breaking successes after he hired Ivan Lendl as coach, and decided they were due for an overhaul of a major kind.
Both took on past Grand Slam champions before the Australian Open, starting today, with Djokovic recruiting Boris Becker to help him try to win a fourth straight title in Melbourne and Federer working out a part-time deal with Stefan Edberg.
"It's great to see other legends of the sport coming back and trying to help the active tennis players during their careers," Djokovic said at Friday's draw. Federer said he'd like to see even more tennis greats bringing their experience back to the tour.
Murray stuck with the eight-time major winner, Lendl - a partnership that has so far yielded titles at the US Open and Olympics in 2012, and at Wimbledon last year.
Rafael Nadal tried some new therapies on his knees in the offseason but otherwise has an unchanged team led by his uncle Toni, who has guided his career since childhood.
It was good enough to win him 10 titles last year and regain the No1 ranking after a seven-month absence from the tour.
Serena Williams sought a little bit of extra guidance from a tried and trusted source closer to home this time around, spending time in the offseason with her father, Richard Williams, in Florida to fine-tune parts of her game.
"My dad has always been, for me, my greatest coach and the best coach ever," Williams said. "He knows when to step back. He knows when to say 'Yeah.' He knows when to be like, 'Okay, this girl is nuts - I'm not going to say anything right now!'
"He knows me better than anybody else."
Before her 2013 season, Williams worked out in Mauritius with Patrick Mouratoglou's group. After an upset loss in the quarter-finals at Melbourne Park to Sloane Stephens, she rebounded to win 78 of her 82 matches last season.
After opening 2014 with a successful title defence in Brisbane, with Mouratoglou still in the stands, Williams is confident she can end Victoria Azarenka's two-year reign at Melbourne Park.
Even in Brisbane, where she had back-to-back wins over Azarenka and Maria Sharapova, two of her biggest rivals, Williams was getting pointers long-distance from her dad.
She won't get a chance to play Sharapova and Azarenka back-to-back in Melbourne, with both on the opposite side of the draw.
Williams, who hasn't lost a competitive match since August, starts her Australian Open campaign against Australian teenager Ashleigh Barty, and has 2011 US Open champion Sam Stosur and two-time Australian finalist Li Na in her half of the draw.
Of the "Big Four" men, three are on a loaded top half of the draw.
Nadal, who won the Qatar Open to start his season, opens against Australia's Bernard Tomic and has Murray and Federer in his half. He could meet No5-ranked Juan Martin del Potro, the 2009 US Open champion, in the quarter-finals.
Murray lost in the second round at Doha last week, his first tournament since minor back surgery in late September. Federer reached the final at Brisbane, where he lost to another 32-year-old former No1, Lleyton Hewitt.
It has been a decade since Federer won his first Australian title. "I trained probably harder than all the guys ranked ahead of me in the offseason," Federer said. "I really feel I'm on my way back. Who knows? Maybe I'm playing my very best in March or April is my feeling.
"But I still feel there's a lot possible right now."
Top seeds in action today
Men's
2 - Novak Djokovic (SRB) v Lukas Lacko (SVK)
3 - David Ferrer (ESP) v Alejandro Gonzalez (COL)
7 - Tomas Berdych (CZE) v Aleksandr Nedovyesov (KAZ)
Women's
1 - Serena Williams (USA) v Ashleigh Barty (AUS)
4 - Na Li (CHN) [4] v Ana Konjuh (CRO)
17 - Samantha Stosur (AUS) v Klara Zakopalova (CZE)
- AP