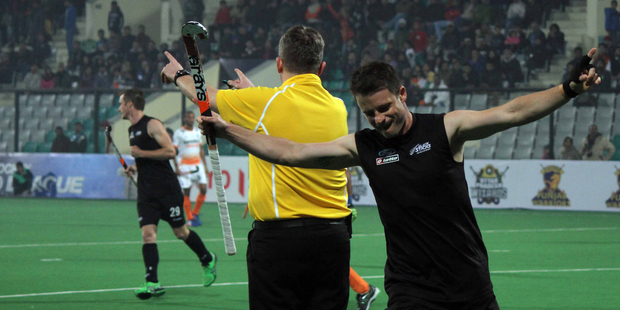 New Zealand know they'll need to take another step up when they play their final pool A match against England at the world league finals in New Delhi tonight.
Having been trounced 6-1 by world No1 Germany in their opening game, the Black Sticks bounced back with an encouraging 3-1 win over India yesterday.
However fourth-ranked England - three spots higher than New Zealand - set the group on its head by beating the Germans 2-1 yesterday.
New Zealand are sure to have an eye on developments in pool B, where 11th-ranked Argentina have had a storming campaign. They have beaten world No3 the Netherlands 5-2 and fifth-ranked Belgium 3-2.
The effect of that is that New Zealand are likely to face either the Dutch or world No2 Australia in their quarter-final. That is a game the Black Sticks must win if they are to finish inside the top four.
However, that's for Wednesday. England will present a tough assignment, as coach Colin Batch admitted.
"England are a good side and we're going to have to raise our game further," he said.
Shea McAleese put New Zealand ahead inside the first two minutes yesterday before Capital attacker Stephen Jenness scored twice - one a deft flick off a Phil Burrows drive into the circle, the other a neat solo effort.
New Zealand hit the woodwork in the first half and striker Hugo Inglis missed an open chance so more work is needed on the sharp-shooting.
"[Germany] was tough, and we had to come out and get the points [against India]," man of the match Jenness said.
"We didn't have much ball against Germany so that was a focus for us and we did well in that area."
Jenness put the win down to a strong team effort and players providing quality support for each other.
"We held on to the ball well and took our chances when we could. It was a great team effort and the result comes down to the work the boys put into supporting each other."