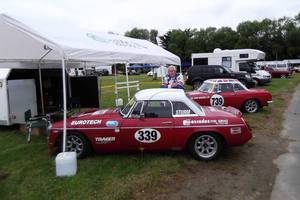 A 73-year-old Auckland man remains in a serious condition after a high-speed crash at Taupo Motorsport Park on Friday night.
Tony Sturm was flown to Waikato Hospital with serious pelvic and neck injuries.
A hospital spokeswoman said he was in a serious condition in the hospital's high dependency unit.
The racing car driver's red 1960s MGB Roadster was "totally wrecked'' in the crash, the track's chief executive Geoff Langham said.
"It was built as a racecar with full roll cage. If it wasn't, he'd be dead.''
MG Club captain Darryl Bretherton said the car had rolled end-on-end.
"Tony Sturm is one of the best drivers in our series - he's been racing a long time. Everything he's done has always been about common sense.''
- APNZ