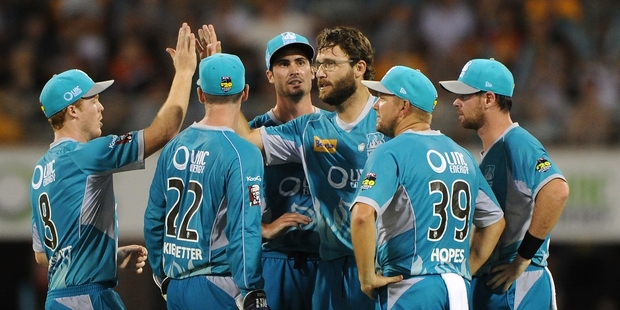 Daniel Vettori's contract for his new role coaching in the Indian Premier League is thought to be worth US$450,000 ($542,000) - and a decision will be made on his playing future in the next month.
Vettori's methodical demeanour is the driving force behind his appointment as coach of the Royal Challengers Bangalore after what's understood to have been up to six months of negotiations. Franchise bosses see Vettori's unassuming man-management style as key to developing an inclusive environment, especially for younger Indian players and batsman Virat Kohli, who, at 25, remains a work-in-progress as captain.
Vettori joined the franchise in 2011 on a US$550,000 ($662,000) contract as a player and his willingness to set aside hours with fledgling players in the nets has paid further dividends. The RCB have already retained the services of overseas players Chris Gayle and AB de Villiers for the coming season.
The franchise is owned by Indian industrialist Vijay Mallya who also has the Force India Formula One team as part of his portfolio.
He is also an MP and chairman of the United Breweries group that produces Kingfisher beer.
Vettori's role will require approximately three months' work per annum once planning time has been factored in beyond the eight-week tournament.
In signing the deal, he will forego a place in the IPL player auction on February 12 and he joins former New Zealand captains Stephen Fleming (Chennai Super Kings) and John Wright (Mumbai Indians) as IPL franchise coaches.
Vettori replaces South African Ray Jennings after RCB missed the IPL semifinals and subsequent qualification for the Champions League for the past two seasons.
However, frustration is brewing for Vettori, who turns 35 later this month. He has recovered from Achilles tendon surgery in June only to suffer a back strain during a recent lifting exercise at home. He has already undergone three painkilling injections in the lumbar region and is nearing the end of his pain threshold trying to play for the Brisbane Heat in Australia's Twenty20 Big Bash League.
As he struggled through four overs against the Sydney Thunder last week television commentators suggested he had "bottle tops in his boots" in reference to his hobbling between overs. In spite of the pain, Vettori has recorded respectable statistics of five wickets at 24.60 at an economy rate of 6.15 runs per over in five matches.
The BBL provides lucrative income but Vettori has also been testing his body to see if it can stand the rigours of international play. Playing for New Zealand this summer and on until next year's World Cup appears increasingly unlikely.
If Brisbane don't make the semifinals, Vettori will return home in a fortnight and the discussions on his future will begin. A seminal meeting will be held between Vettori, New Zealand captain Brendon McCullum and coach Mike Hesson within the next month to decide his future.
As recently as November, New Zealand Cricket indicated they wanted Vettori back across all forms. Tellingly, the naming of the test team against the West Indies was pushed out to incorporate Vettori's Plunket Shield match for Northern Districts against Central Districts. It was just his second first-class match in 16 months and followed a six-wicket haul against Auckland.
Vettori, who has 360 wickets from 112 tests and the country's most ODI wickets (284), turned down an NZC contract in July.
The RCB contract is Vettori's first foray into coaching outside what was termed an 'assistant coach' stint with the Heat last season. He is looking to play internationally until at least the 2015 World Cup but the coaching decision signals his first steps - outside shareholdings in several businesses - beyond playing cricket since making his test debut almost 17 years ago.