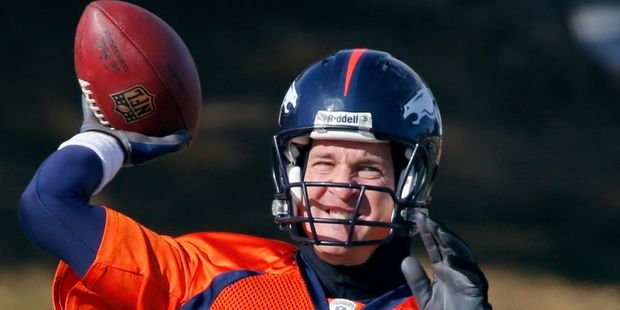 Peyton Manning and the Denver Broncos, who set National Football League records for passing and points, open their playoff run on Monday against the San Diego Chargers, who upset them last month.
Quarter-final playoff match-ups find Indianapolis at New England tomorrow and San Diego at Denver on Monday in the American Conference, with New Orleans at Seattle tomorrow and San Francisco at Carolina on Monday in the National Conference.
Winners advance to the conference finals on January 19 that will determine the teams for Super Bowl 48 on February 2 in suburban New York.
The Broncos went 13-3 to secure a first-round bye and a home-field playoff edge, setting a one-season record with 606 points as Manning set new season marks with 5477 passing yards and 55 touchdown passes.
But the Chargers, who only qualified for the playoffs on the last day of the season, are coming off a 27-10 first-round upset win at Cincinnati and have confidence from a 27-20 shock win at Denver on December 12.
The Broncos were without receiver Wes Welker for the San Diego loss but he has recovered from a concussion and will be a prime playoff target for Manning, who shrugs off memories of Denver's 38-35 double-overtime home playoff loss to even-tual Super Bowl champion Baltimore in this round last year.
"Each season takes on its own identity and different things occurred along the way," Manning said. "This is its own chapter. We're looking forward to writing it for a number of more weeks."
Manning won his only Super Bowl with Indianapolis in 2007 and he might face his former club again in the conference final if the Colts, led by Manning replacement Andrew Luck, can topple the Patriots, quarterbacked by three-time Super Bowl champion Tom Brady, who has a record 17 playoff victories.
While the Patriots had a bye last week, Luck lived up to his name, rallying the Colts from a 28-point deficit for a 45-44 playoff triumph over Kansas City.
"A great team victory and one for the ages," said Colts coach Chuck Pagano. "Our guys are unbelievable. They stuck to the process and never doubted. We did just enough to advance."
Colts defender Robert Mathis, who led the NFL with 19.5 sacks, could make Brady's day long. "He's a great player," Brady said. "We know what we're up against. He's having one of the best years of his career."
At Seattle, the Seahawks also enjoyed a bye week after a 13-3 season that gave them a home-field playoff edge. A crowd known for noise so loud that rivals cannot hear instructions brings a big boost, but the New Orleans Saints have worked with loud noise piped into their facility this week.
"It is deafening," Saints coach Sean Payton said of the Seattle stadium atmosphere. "They do a great job. The way the stadium is structured, the noise stays in."
New Orleans knows that after losing in Seattle 34-7 last month. The Seahawks defence led the NFL in fewest points allowed, fewest yards allowed, pass defence, takeaways and interceptions.
"We're going to need our best effort to beat these guys, but if there's a team that can do it, I believe it's us," Saints quarterback Drew Brees said.
The Carolina-San Francisco game is a rematch from the regular season - the Panthers edged the host 49ers 10-9 in November. While Carolina enjoyed a first-round bye, the 49ers won 23-20 at Green Bay last weekend.
- AFP