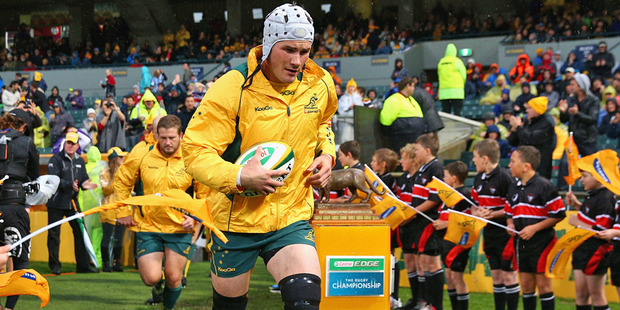 Wallabies captain Ben Mowen is to quit Australian rugby at the end of the 2014 season.
Mowen, 29, has decided to move to Europe, ruling him out of the 2015 World Cup.
The move will come as a massive blow for the Australian Rugby Union and Wallabies coach Ewen McKenzie who installed Mowen as national skipper in his debut season for the Wallabies last year, replacing incumbent James Horwill.
Brumbies skipper Mowen reportedly wants to put his family first, and the heavy travel schedule involved in Super Rugby and with the Wallabies had him missing time with his wife Lauren and daughter Eleanor.
He is believed to be negotiating a deal in French club rugby.
Mowen spent almost seven months away from his family in a hectic 2013, which included a Super Rugby finals campaign, a British and Irish Lions series and six-week spring tour of Europe.
"It's the hardest decision of my career and I flipped 100 different ways trying to figure out which way I was going to go,'' Mowen told Fairfax Media.
"But being away for so long, it was a bridge too far. It's time to put my family first, that's the most important thing.
"I'm extremely thankful for the opportunities I've had, but the reality is it is time to put my family first and have quality time together.''
Mowen told McKenzie and Brumbies coaches Stephen Larkham and Laurie Fisher of his decision on Monday.
He is expected to announce his decision at a media conference on Thursday morning.
He was well aware of the enormity of his decision, given he is Wallabies captain.
"I am probably the first [Wallabies captain to be in this situation], but I'm also probably the first bloke to make his test debut at 28 and retire at 29,'' said Mowen.
"It was short and sweet for a test career. It's a hard decision. It took months, but I'm comfortable where I've come to and I'm proud of the contribution I've made.''
Mowen said he made his decision public now rather than later in the year to give McKenzie, Larkham and Fisher more time to plan for the future.
Mowen made his test debut in June and played every international match last season.
He took over as captain for six tests, including all five matches on the Grand Slam tour of Europe. He won five of six tests as captain.
Mowen also led a Brumbies revival in Canberra over the past two seasons, including making the Super Rugby final last season.
Mowen hasn't ruled out a return to Australian rugby, but admitted he would likely finish his career abroad.
"I never thought I'd leave the Queensland Reds and I did. I never thought I'd leave NSW to join the Brumbies, but I did,'' Mowen said.
"I'd be naive to say that I will never play for Australia again - you just don't know.
"It's sad to be leaving, but I'm leaving something that I treasure rather than something I just want to get out of.''