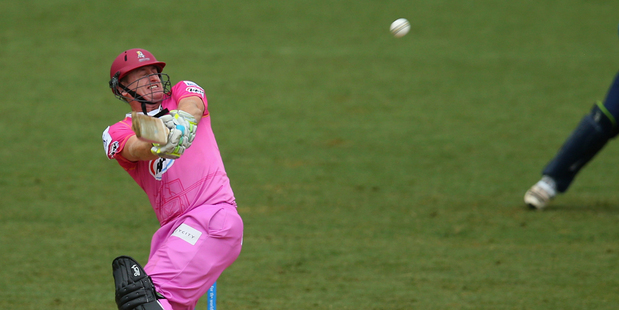 It's not the loveliest of grounds, but there must be something about Eden Park's outer oval which appeals to Scott Styris.
The former international clouted 68 off 26 balls on the ground on Northern Districts' last visit to Auckland in the HRV Cup.
Yesterday, Styris helped himself to 48 off only 18 balls to carry ND to an important 29-run win which keeps them well in the frame for the playoffs, and damages Auckland's prospects at the same time in a tight conclusion to the domestic T20 tournament.
Over those two innings, Styris hit 13 sixes and made his 116 runs off only 44 deliveries.
Yesterday, having been sent in, ND reached 180 for seven, with other useful contributions coming from opener Brad Wilson (36 off 33 balls), Australian import Dan Harris (25 off 14) and BJ Watling (20 off 16).
Spinner Bruce Martin proved the most adept of Auckland's bowlers with two for 21 from four overs.
Auckland were never in the hunt, after a slow start, finishing on 151 for nine.
Anaru Kitchen top scored with 42 off 39 balls, and captain Gareth Hopkins' lively 31 off 19 briefly putting impetus into the chase.
Styris rounded off his day with two wickets in six balls to undermine any potential middle order revival.
Otago were too good for Wellington in Dunedin, hitting 204 for three, led by Hamish Rutherford's rollicking 79 off 44 balls, to take top spot from the visitors.
Auckland and ND meet again in Hamilton tomorrow, while Canterbury hosts Wellington. Auckland must win to stay in the frame.
Points: Otago 24 (9 games), Wellington 20 (9), ND 20 (8), Auckland 16 (8), Canterbury 16 (8), CD 4 (8).