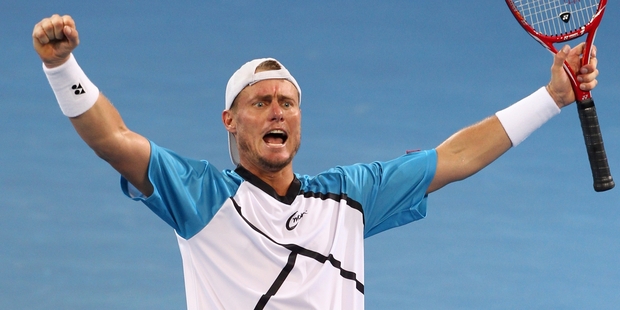 There is probably as much chance of a home-grown male singles champion at the Australian Open as there is of Lleyton Hewitt arriving at Melbourne Park in one of the city trams, but at least the Adelaide-born former world No1 will offer the prospect of some excitement for locals when the year's first Grand Slam tournament begins in seven days.
Hewitt has been dogged by injuries in recent years, but the 32-year-old proved he can still be a threat to the very best when he beat Roger Federer 6-1, 4-6, 6-3 to claim the Brisbane International title on Sunday. It was Hewitt's first title since he beat Federer in the final at Halle four years ago.
"If I play like I did this week I have a chance of doing damage to some serious players," Hewitt said as he looked forward to the Australian Open.
"It just gives me a lot more confidence going out there believing in how well I'm hitting the ball at the moment and that I can match up with the best guys.
Obviously it's a different stage, winning three sets out of five against those guys, but that's why I still play the game."
Australia has not had a home male singles champion since Mark Edmondson in 1976, though Hewitt went close nine years ago, when he lost to Marat Safin in the final. There have been hopes that Bernard Tomic might restore Australian glory, but the 21-year-old has yet to realise fully the potential he showed as world junior No1.
Hewitt, meanwhile, has made a fine recovery from the injuries that had looked likely to end his career. The world No60 has had five operations, most recently for a foot problem in 2012, yet has kept bouncing back. Remarkably, he reclaimed the Australian No1 position from Tomic, who fell in yesterday's updated world ranking list from his position at No51.
"I think the most pleasing thing is what I've had to come through and the tough times in terms of surgery," Hewitt said. "Before the last surgery I made no secret: there were no guarantees I would be able to play again."
The other men's champions in the first week of the season were Rafael Nadal and Stanislas Wawrinka. Nadal beat Gael Monfils 6-1, 6-7, 6-2 in the Qatar ExxonMobil Open final. Wawrinka won in Chennai, beating France's Edouard Roger-Vasselin 7-5, 6-2 in the final.
Serena Williams proved she has no intention of relinquishing her hold on the No1 ranking when she followed up her win over Maria Sharapova by beating Victoria Azarenka 6-4, 7-5 in the final in Brisbane. Williams' sister, Venus, was beaten 6-2, 5-7, 6-4 by Ana Ivanovic in the final in Auckland. Venus pulled out of this week's Hobart International.
Meanwhile, Andy Murray will this summer try to become the fifth player in the Open era to win the Queen's Club title for a fourth time. The British No1 yesterday confirmed he will defend his title at the Aegon Championships, which start on June 9.
- Independent