The world No 3 says the Heineken Open is a very important tournament to him.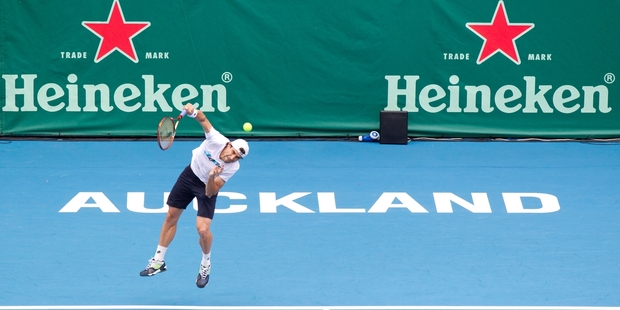 Each year David Ferrer comes to the Heineken Open and each year he tends to win it.
It's what he has done the last three years - he's won four times overall in nine visits - and it highlights his consistency on the men's tour. He has spent nine years in the world's top 20 and more than three of those in the top 10.
Last year he won only two titles (Auckland and Buenos Aires) but played in seven other deciders including the French Open final which he lost to world No 1 Rafael Nadal. In 2012 he won an impressive seven titles (the best on tour) and played the most singles matches of anyone (91), and he's made the last eight in the last nine grand slam tournaments.
It's a phenomenal record and victory at the Heineken Open this year would see him eclipse the great Roy Emerson and hold the record for the most wins at the Auckland event.
Emerson, the former world No 1 amateur and holder of 12 grand slam singles and 16 grand slam doubles titles, won it four times in the 1960s.
Ferrer is currently world No 3 and doesn't command the same sort of reverence as the Big Four (Nadal, Djokovic, Murray and Federer) and he probably needs to win a first grand slam title to occupy a spot at the top table of men's tennis.
But the 31-year-old finally admits he deserves to be world No 3. Even 12 months ago, he struggled to see how he could muscle his way in and break up the Big Four.
"Tennis is justice," he said. "I know it's difficult to be top 10 or to be No 3 in the world. I am lucky because Andy Murray was injured for three or four months, but I had a very good year [in 2013]. I finished the year No 3 because I deserved it, I think I deserve to be No 3 in the world."
He has made a few changes, recently parting company with his coach of 15 years Javier Piles.
It was a sometimes fractious relationship - Piles reportedly once locked Ferrer in a cupboard as punishment for a poor performance.
Few could really, however, question Ferrer's work ethic. He is incredibly fit, and his speed around the court is one of his greatest assets. He is also highly motivated. "It's an ATP tournament," he said. "They are all important and Auckland is very important for me because I have come a lot of times and I know a lot of people. I am 31 now and I have seen a lot of tennis tournaments and played a lot of matches but it's the same for me. I have the same passion to fight every match."
The Spaniard will again be favourite to take out this year's Heineken Open title. The field is still a strong one, despite the withdrawals of Gael Monfils (fatigue) and world No 18 Tommy Robredo (wrist), with Tommy Haas, John Isner, Kevin Anderson and Philipp Kohlschreiber the biggest threats.
New Zealand No 1 Rubin Statham has a wildcard and will play a qualifier in the first round. Three other Kiwis - Artem Sitak, Michael Venus and Sebastian Lavie - will play the final round of qualifying tomorrow but none are expected to progress given they are up against players ranked significantly higher.
The top four seeds receive a first-round bye and will play their first matches on Wednesday.
Day One - Heineken Open
Qualifying: Daniel Gimeno-Traver (ESP) v Sebastian Lavie (NZL)
Qualifying: Lukas Lacko (SVK) v Michael Venus (NZL)
Santiago Giraldo (COL) v Albert Montanes (ESP)
Not before 6.30pm
[WC] Jack Sock (USA) v Adrian Mannarino (FRA)
Filippo Volandri (ITA) v Horacio Zeballos (ARG)
Court 2 - 12pm
Qualifying: Donald Young (USA) v Artem Sitak (NZL)
Qualifying: Bradley Klahn (USA) v Steve Johnson (USA)
Not before 3pm
Eric Butorac (USA)/Raven Klaasen (RSA) v Paul Hanley (AUS)/Jonathan Marray (GBR)