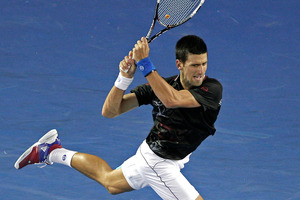 Top seed Rafael Nadal, second seed David Ferrer and third seed Andy Murray opened the new tennis season with first-round wins at the Qatar Open yesterday.
Murray barely broke a sweat for his 6-0, 6-0 win over 2129th-ranked Qatari wildcard Mousa Shanan Zayed. The match took all of 37-minutes and Murray hit the practice courts afterwards.
"Yeah, it was pretty easy," Murray said of the match. "It's kind of a tough situation. It's not something you're really looking forward to, but you just have to try and play and concentrate.
"In terms of feeling sorry for him, not really. I mean, after the match but not during it," said the Scotsman.
Murray won all but 17 points in the 66-point match. He won all 20 points when his first serve went in.
"It's fairly rare but you see it once, maybe twice in a season," Murray said of being 100 per cent successful on first serve points won.
Zayed has played only two tour-level matches, losing to Gael Monfils in the first round at last year's event.
Nadal breezed through the opening set, but was tested in the second set by Lukas Rosol before the world No1 secured a 6-2, 7-6 (7) win on his fifth match point of the tiebreaker.
The only other time Nadal faced the Czech native was a five-set loss in the second round at Wimbledon in 2012. After that match Nadal took seven months off with a knee injury.
"Thinking about revenge is a bad way to start the match, my opinion," said Nadal, asked if that entered his mind. "You have to start with the calm and with the mind very open to analyse what's going on in the match."
Nadal committed 27 unforced errors, but Rosol topped that with 50 unforced errors in the one hour, 43 minute match.
Ferrer needed three sets to come up with a 6-3, 5-7, 6-3 win over Alexandr Dolgopolov of the Ukraine.
Defending champion and fifth seed Richard Gasquet also moved into the second round with a 7-5, 6-1 win over Egyptian wildcard Karim Hossam.
- AP