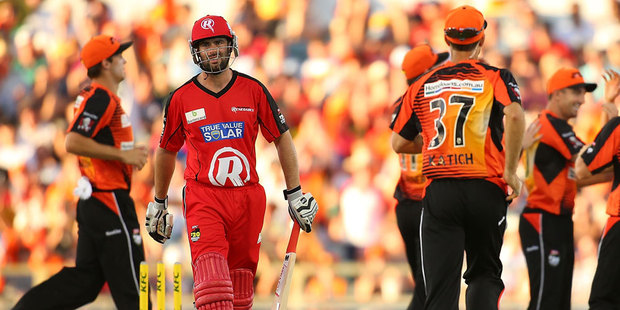 Australian batting coach Michael Di Venuto has backed Alex Doolan to slot in well at No3 if he receives a Sydney test call-up.
National selectors have brought the 28-year-old into the squad as cover for all-rounder Shane Watson, who injured his groin on day one of the Boxing Day test.
Bowling coach Craig McDermott also said yesterday that he expects Watson to be fit for the fifth test starting on Friday.
There are big wraps on Doolan - it appears a matter of when, not if, he will play test cricket.
If Doolan comes into the team this week, Di Venuto is confident his fellow Tasmanian will handle the pressure well.
"He's not a young player - Alex has been around for a while and played a fair bit of cricket for Tasmania, so he's experienced," Di Venuto said.
"If he gets his opportunity, it will be at the top of the order, at No3. I'm sure he will perform well."
Doolan has played for Australia A and shown strong form so far this season for Tasmania.
Di Venuto added that Doolan worked extensively with former test captain Ricky Ponting last year on and off the field when they were Tasmanian teammates.
Doolan is to go to Sydney to join the national squad after playing in the Big Bash League for the Melbourne Renegades last night.
He was stunned on Sunday when he received a call from chairman of selectors John Inverarity.
"I didn't quite know what to expect when I saw John Inverarity's number pop up on my phone," he said. "I was wondering what I'd done wrong. It's going to be exciting and something I will really cherish."
Doolan has the happy scenario to join an Australian team that is firing, rather than coming in to help rejuvenate the lineup.
"The guys are on a high, they've all played very, very well. So it would be a nice fit for me to go in on such a high.
"But in saying that, any time you get a chance to at least be called up for your nation, it's a huge honour."
Doolan said he would spend the week making sure he is ready to go if picked in the XI. AAP