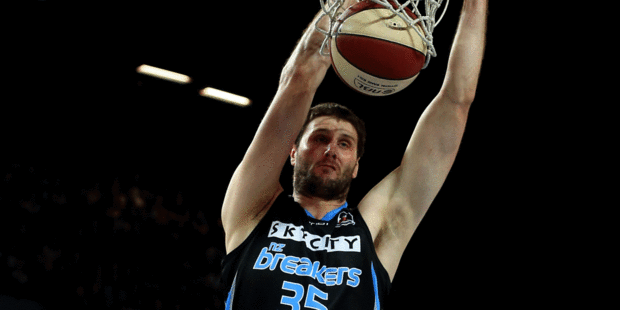 The Breakers have suffered a blow ahead of their four-game roadtrip with news Alex Pledger may miss the entire holiday programme.
The centre rolled his left ankle during scrimmages at practice yesterday and will certainly miss the trip to Sydney for the first festive fixture on Sunday.
The club confirmed today that Pledger had sustained a suspected grade two sprain, which could see him on the sidelines for three-to-four weeks and leave him in serious doubt for trips to Adelaide, Melbourne and Perth.
It is a cruel blow for Pledger, who in recent weeks has been struggling with an injury to his right ankle and breathing problems sustained during a heavy fall.
"This is not the way Alex wanted to start the second half of the season,'' coach Dean Vickerman said. "He has just come right from an ankle injury to the [right] ankle and now he sprains the other one.
"He will concentrate on his rehab with our medical team and won't travel to Sydney.''
The injury also comes at an unfortunate time for the Breakers, with the defending champions (4-9) attempting to get their stuttering season back on track following a fortnight off.
Sydney are currently occupying fourth spot on the Australian NBL ladder and, with a 5-6 record, it is the type of game the Breakers must win if they are to sneak into the playoff spot.
But Pledger's absence shouldn't spell a death knell to hopes of climbing out of last spot over the coming weeks, with Gary Wilkinson already pressing for a return to the starting five before Pledger went down.
Wilkinson has come off the bench since returning to the club earlier in the season, but a steadily improving offensive output was making his case for a return to the roles he and Pledger filled during the American's first stint in New Zealand.
Splitting his time between power forward and centre, Wilkinson enjoyed back-to-back 20-point games before being limited by injury during the loss to Perth, the Breakers' last action before the Christmas break.
"That means an opportunity for Gary,'' Vickerman said. "We know he can and has been playing in the four or five spot, he now gets an opportunity to start and he is looking forward to it.
"We are a little smaller now as a group, it is important that we pick up the slack in rebounding that Alex is so known for.''
Pledger is third in the league with 7.3 rebounds per game - behind teammate Mika Vukona (8.2) - so the onus will be on the rest of the team to improve an area in which the Breakers currently sit second from bottom in the competition.
- APNZ