Opener's recovery good tidings for Windies after test series loss.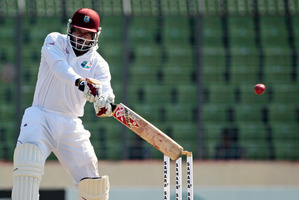 The West Indies badly need some good news, so here it is, with a small qualification: Chris Gayle is likely heading to New Zealand for the two T20 internationals next month.
The champion lefthand opener has been missing from the New Zealand tour with a hamstring tear. He won't make the ODI series, either, but coach Ottis Gibson suggested a late Gayle visit is in prospect.
However, it's more likely that Gayle will decide if Gayle comes to New Zealand, that being the way things happen in the sometimes baffling world of West Indies cricket.
After yesterday's eight-wicket loss, and 0-2 series defeat, the West Indies probably can't wait for one-day reinforcements to settle in, starting at Eden Park on Boxing Day.
The shorter form is their better game at the moment. They are world T20 champions and have players who bring zing to the 50-over game too.
Their test cricket is in a mess, which is not to say New Zealand's back-to-back wins should be done down.
Yesterday's win, on the back of a classy half century from Kane Williamson - after openers Peter Fulton and Hamish Rutherford became bogged down in the morning - will enable New Zealand to go to Eden Park with a spring in their step.
The one point of interest yesterday, besides locking in the win, was whether Ross Taylor could get the eight runs he needed to overtake John R Reid's calendar-year record of 871 runs in 1965. He came up six short, the only thing missing from a stellar series for the senior batsman.
Had the West Indies managed to eke out a further 60 runs in their lame second innings on Saturday afternoon, the chase might have been intriguing. Instead, once spinner Sunil Narine had been treated carefully through the morning it was plain sailing, Rutherford surviving two referrals to the third umpire for a useful unbeaten 48.
"I certainly didn't expect it to end so quickly, but I am incredibly pleased with our effort," captain Brendon McCullum said, admitting he'd got it wrong at the toss when he inserted the tourists.
Taylor and his bowlers, notably Tim Southee and Trent Boult, ensured the hosts made up for that.
Rolling the West Indies for 103 on Saturday was the final straw for a team whose test game is simply not good enough, or resilient enough.
"That's not a 103-run pitch," forlorn West Indian captain Darren Sammy said. He'd hoped for a much more determined performance but instead "we ended up singing the same song".
McCullum certainly doesn't want to see a Seddon Park-type pitch when India arrive.
"I don't think we'd turn up in Kolkata and get a green one so I'd hope when India turn up we don't give them a spinning one," he said.
India have quality seamers, but New Zealand will back the Southee-Boult axis against any in the game in their own conditions.
New Zealand have had to endure some serious grief from their public in the past 12 months for on and off-field events.
Now they've earned the right to end the test year by giving themselves a resounding pat on the back.
Sizzling start to summer
*New Zealand's eight-wicket win in Hamilton was their 74th in 389 tests, against 158 losses and 157 draws.
*It was their 11th win in 42 tests against the West Indies, with 12 losses and 19 draws.
*It is NZ's first three-test series victory since beating the same opponents 2-0 in 2006.