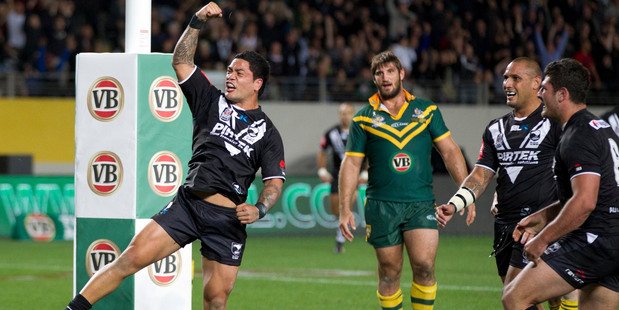 The New Zealand Rugby League hope to stage the 2015 Anzac test in Auckland, during the centenary year of the 1915 Gallipoli landings.
The match has traditionally been staged across the Tasman - this country has only hosted one of the mid-season internationals in the last 15 years - but the NZRL have made a major play to secure the event, which could become a cornerstone of the commemorations of the milestone Anzac celebrations.
Canberra, after successfully hosting the game this year, are also understood to have bid for the match but the NZRL remain confident they can bring the game to New Zealand.
"We are progressing conversations and we are petitioning quite hard for it," NZRL CEO Phil Holden told the Herald on Sunday. "We are very keen to get the 2015 Anzac test here in New Zealand. For a number of reasons I think it would be a massive event here, given it is the centenary of Gallipoli in 1915. The emotion around that would be quite powerful in terms of an event."
There had been talk of staging the centenary game in Turkey, with the two sides playing a game on April 24 and attending the dawn service at Anzac Cove the next morning. Such a match might have attracted support from the large number of expatriate Australians and New Zealanders based in Europe but appears to be off the agenda now.
It was seen as not logistically viable but Holden hopes that a match at Eden Park will prove a worthy celebration of the occasion.
"If we can secure that game here, we can build a lot around the match in terms of a New Zealand celebration of the Anzac spirit," says Holden. "We already have a good relationship with the Returned Services Association and, with the Cenotaph being in Auckland, there is a great opportunity to give it the respect it should be due."
An Anzac test was last played here in 2012 (at Eden Park).
Before then, you have to go back to the 1998 clash at North Harbour Stadium. It would be a good opportunity for the New Zealanders to stop a losing streak in the fixture, as their only victory came at that Albany match.
Anzac tests in New Zealand
• 1998 North Harbour Stadium - Kiwis 22 Kangaroos 16
• 2012 Eden Park - Kangaroos 20 Kiwis 12
12 of the 14 Anzac test matches have been played in Australia