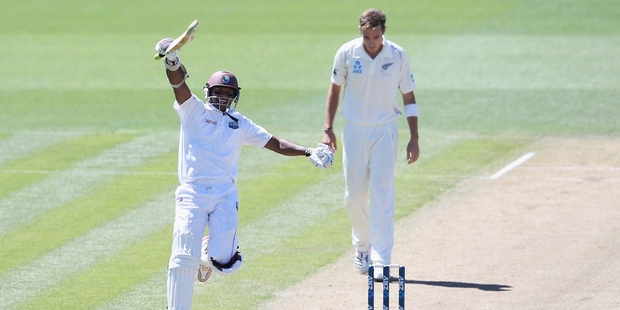 The unorthodoxy of Shivnarine Chanderpaul is a myth.
Sure, his batting deportment looks a touch loopy up to the point where the bowler releases the ball - the front on stance, the trigger to move the back foot across, the effort to get more side-on, the adjustment of the bat into position. Then, when the bowling arm releases, bang, he is in perfect alignment.
He lets the ball come to him, plays it under his eyes, works it into gaps and punishes on occasion.
Singles and twos splay like severed electrical wires through the leg side of his wagon wheel; boundaries were chimed anywhere on the clock face on his way to a 29th century in his 153rd test.
This could be the last time fans get to see the Guyanese guru nudge and nurdle his way to a century in New Zealand. Sir Viv Richards he is not, nor is he Brian Lara, but as an accumulator he is unsurpassed.
Statistics such as 11,199 runs at an average of 52.08 across 260 test innings reinforce his credentials. At 39 years old he remains a fixture in the West Indies team.
His 122 not out saw him overtake Allan Border into sixth on the test runs honours board. He now has 17 unbeaten centuries, the most of any test player, overtaking Sachin Tendulkar's 16.
The moment at Seddon Park took its toll, too. Upon reaching his second century against New Zealand with a cut through gully, Chanderpaul knelt and gave the pitch a peck.
There was a symbiotic relationship with the tail too. Veerasammy Permaul added 20 at a run a ball followed by a sparky 25 from Tino Best. The 10th wicket partnership of 35 broke the record set in 1971-72 by Grayson Shillingford and Mike Findlay.
Chanderpaul is undemonstrative by nature but beamed when he spoke of the milestone.
"It reflected the things we have talked about all season. Here and in India we've been struggling to get starts and go on. We've talked about batsmen getting hundreds and we've done it in this game.
"It's a fantastic effort from Ramdin and myself to get us up. From having a good start, then losing so many wickets in the second session we've managed to get the team into a decent position."
The effort by the Windies veteran was not lost on New Zealand vice-captain Kane Williamson."He's a class act. You can learn a lot from a player like that, the way he constructs an innings."
Chanderpaul was delighted with the Hamilton pitch, especially the turn generated by Sunil Narine on just the second day.
"You could say I wish we had wickets as good as these in the Caribbean," he said. He was less forthcoming on where his latest feats place him in the pantheon of great batsmen.
"AB [Allan Border] is a great man and scored a lot of runs against us when we had a lot of fast bowlers. I'm happy to get up there amongst some great players."