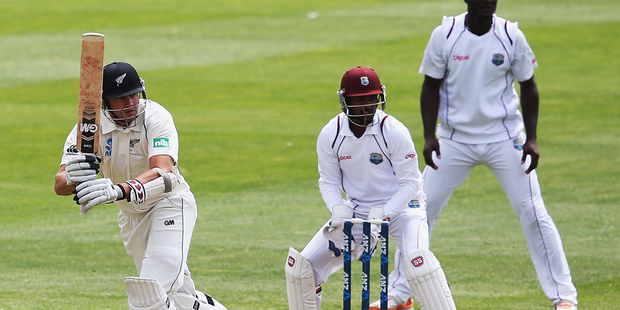 Rain cruelly deprived New Zealand of a drought-ending test win at University Oval today.
Needing 112 to beat the West Indies in the first test of the three-game series, New Zealand were making heavy weather of the chase on the final afternoon at 79 for four when the rain arrived just on tea and didn't let up.
For the West Indies it was a bullet dodged as they had been on the back foot for most of test, but survived courtesy of Darren Bravo's 218 and captain Darren Sammy's gutsy 80 to reach 507 in their second innings. It was the West Indies fourth highest second innings total.
Read: Bravo! Dazzling Darren in groove
David Leggat: Present Windies not a patch on quick men of old
New Zealand were undone by offspinner Shane Shillingford, who took all four wickets as the hosts' got fidgety as they eyed their first win in 10 tests, only to run out of time.
The rain was always expected to arrive but New Zealand couldn't get going in their second innings.
Ross Taylor, the first innings double centurymaker, spent 94 minutes over 16 not out, while Corey Anderson was on 20 when the rain came.
Shillingford finished with four for 26 off 15 tight and penetrative overs.
New Zealand's last test victory was in Colombo last November. Since then they have lost four tests - two each against South Africa and England - and drawn five, three against England and two against Bangladesh.
The second test starts in Wellington next Wednesday.
SCOREBOARD