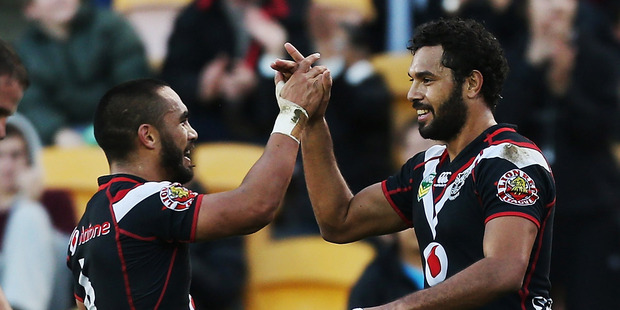 The Warriors will kick off their 2014 NRL season in Sydney, with a match against the Parramatta Eels on March 9, before hosting their first three Auckland-based home games of the year at Eden Park.
Today's announcement of next season's NRL draw revealed the Warriors will play 13 of their 24 regular season games at home with Mt Smart Stadium and Eden Park in Auckland and Westpac Stadium in Wellington all scooping fixtures.
The first home game for the Warriors at Mt Smart Stadium doesn't occur until round 12, when they host the Knights on June 1. The Warriors play a total of eight games at their Penrose home this year.
The Warriors will also travel to Wellington, where their fourth home game from the first nine rounds is against Wests Tigers at Westpac Stadium on March 30.
The Bulldogs will bring their 10th round 'home' encounter to Hamilton's Waikato Stadium on Sunday May 18th.
The Warriors have a strong run of home games in the latter half of the campaign with eight of their last 13 games at Mount Smart Stadium including three in a row against Brisbane, Penrith and Parramatta (the games against the Panthers and the Eels are separated by a bye).
The Warriors will meet 2013's top four teams just once in the regular season - Melbourne and South Sydney away and Manly and the Roosters at Mount Smart Stadium. They also travel to Perth for the third season running, drawn to meet the Rabbitohs in the 13th round at NIB Stadium on Saturday, June 7.
"The draw works out well for us with our home games first at Eden Park and Westpac Stadium before we have our eight-game block of matches at Mount Smart Stadium," said Warriors chief executive Wayne Scurrah.
"The start to the season couldn't be more exciting starting with the NRL Auckland Nines at Eden Park and then rolling into our matches there against the Dragons, Bulldogs and Raiders plus the Tigers in Wellington.
"It's a challenging job for the NRL factoring in all the various requests but we're thrilled with our mix of Saturday and Sunday games and also the fact we have an away game against the Bulldogs in Hamilton."
Warriors coach Matthew Elliott said the run home and the variety of Saturday and Sunday games was ideal.
"We're still a long way off from the start of the 2014 season and we've got lots of work to do yet but I couldn't be more excited with what's ahead after studying the draw," he said.
"There are so many tantalising prospects whether we're playing at Eden Park, Westpac Stadium, Mount Smart or Waikato Stadium not to mention heading to Perth, Melbourne, Newcastle, Canberra, Townsville and around parts of Sydney.
"It's what makes the NRL such an exciting competition to be involved in. My instant reaction? Can't wait."
VODAFONE WARRIORS - 2014 NRL AND NYC DRAW
(local kick-off times listed)
1 Sun March 9 6.30pm Eels Parramatta Stadium
2 Sat March 15 5.00pm Dragons Eden Park
3 Sat March 22 8.00pm Cowboys 1300SMILES Stadium
4 Sun March 30 2.00pm Wests Tigers Westpac Stadium
5 Sat April 5 3.00pm Sharks Toyota Stadium
6 Sun April 13 4.00pm Bulldogs Eden Park
7 Sat April 19 5.30pm Dragons WIN Jubilee Oval
8 Fri April 25 6.00pm Storm AAMI Park
9 Sat May 10 5.00pm Raiders Eden Park
10 Sun May 18 4.00pm Bulldogs Waikato Stadium
11 Sat May 24 5.30pm Titans Skilled Park
12 Sun June 1 4.00pm Knights Mount Smart Stadium
13 Sat June 7 7.30pm Rabbitohs NIB Stadium
14 June 6-9 Bye
15 Sat June 21 7.30pm Broncos Mount Smart Stadium
16 Sun June 29 4.00pm Panthers Mount Smart Stadium
17 July 4-7 Bye
18 Sat July 12 7.30pm Eels Mount Smart Stadium
19 Sat July 19 7.30pm Broncos Suncorp Stadium
20 Sun July 27 4.00pm Sea Eagles Mount Smart Stadium
21 August 1-4 Raiders Canberra Stadium
22 August 9-11 Sharks Mount Smart Stadium
23 August 15-18 Knights Hunter Stadium
24 August 22-25 Roosters Mount Smart Stadium
25 August 29-September 1 Titans Mount Smart Stadium
26 September 4-7 Panthers Centrebet Stadium