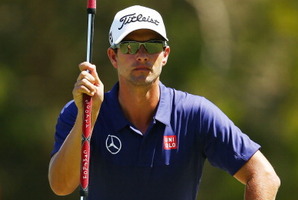 Adam Scott thought a magical 59 may be likely before settling for a breathtaking course-record 10-under 62 in the opening round of the Australian Open golf championship at Royal Sydney.
In a spectacular start to his quest to complete Australian golf's Triple Crown, Scott birdied his first six holes and closed with four more consecutive birdies to leave his early-morning rivals in his wake.
So sublime was the world No2's laser-like ball-striking that the longest birdie putt he made was from less than 4.5m.
His other nine birdies were all accrued from less than 1.8m.
Canadian Ryan Yip shot 65 to tie the previous record and was in second place. David McKenzie had a 66 while two-time champion Aaron Baddeley was in a group with 67s tied for fourth.
"I came out hitting great shots and didn't have much work to clean them up [in] the first five holes and then made a nice putt on my sixth hole and I was really rolling at that point," Scott said.
He toyed with the idea of breaking 60 before cooling off mid-round with eight consecutive pars: "I wasn't thinking about it hard but I knew it was a possibility."
In the end, Scott was content with his 62, which smashed the previous course record - jointly shared by Chris Gaunt, Matt Goggin, Stephen Dartnall, Ewan Porter and Jason Norris - by three shots.
Because he started his round on the 10th tee, Scott's scorecard displayed 10 consecutive birdies.
"Some day I'm going to embellish that I made 10 birdies in a row," he beamed. "But it's going to be a few years before I can get away with that."
- AAP