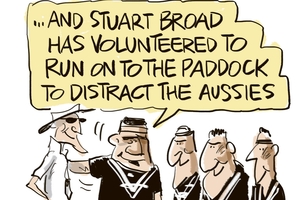 Time to get in early Christmas wishes to Jim Doyle, the former New Zealand Rugby League boss who now heads the NRL's integrity unit.
The way things are shaping, Doyle can forget about sitting down to a Christmas ham - it might pay to get the thing sliced the night before and a bit of bread ready so he can eat on the run while his family unwrap presents.
Aussie league's errant players have an amazing sense of irony, starting with the poster boys who come unstuck. Christmas Day is a sitter for an incident.
Doyle has had a cracker of a week already, with Richie Fa'aoso, Reni Matua, Russell Packer and Tyrone Phillips involved in allegedly anti-social/violent behaviour. Poor Doyle faces a long off-season.
Never mind. The spin doctors are earning their keep, managing to get a headline out there suggesting Fa'aoso was in "despair" over his injury problems.
The Manly club, at the bidding of Fa'aoso's family, have tried to hose down suggestions that domestic violence is involved despite evidence of property damage to the contrary.
In a classic piece of bad boy timing, Fa'aoso's behaviour - which involved failing an alcohol/breath test after a police pursuit - came as the NRL supported White Ribbon Day, the campaign against violence to women.
Without pre-judging Fa'aoso, and hoping that he addresses issues in his life, it pays to point out to Manly that families can struggle to acknowledge or reveal domestic violence. Police officers report that the victims of domestic violence even turn on them. Denial and shame complicate matters. It is an incredibly emotional and sad business. Here's the bottom line: how would the club truly know?
The club's haste to accept the Fa'aoso family's version smacks of ignorance and shameless PR. Jim Doyle might investigate that.
Injuries plague Kiwi camp
The Kiwis face tricky selections for the World Cup final against Australia at Old Trafford.
They have three quality players - Roger Tuivasa-Sheck, Manu Vatuvei and Frank Pritchard - under major injury clouds. The trouble is, their likely replacements are not up to the test mark. Using badly injured players in big games is not a wise move however. A memorable case - Kiwi coach Tank Gordon played Gary Mercer at fullback in the 1988 World Cup final at Eden Park and it was one disaster among many that day. The injury situation helps make Australia overwhelming favourites in Manchester on Sunday morning. I'm picking the Kangaroos to win by 14 points which, with a bit of luck, will put the kiss of death on the Australian chances.
Morgan on the money
Gareth Morgan, the money man and Wellington Phoenix owner, is on the mark about New Zealand Football's performance in the World Cup finals qualifiers. It was a shambles, and heads should roll.
There's no guarantee of qualifying by any stretch, but still, NZF chucked Brazil and $12 million down the drain without a decent fight.
I've got no idea why the crowd appeared so happy in Wellington, because the All Whites were cleaned out by a Mexican club team in the two-game duel. New Zealand soccer isn't a world power, but is still better than that.
My only guess is fans wanted to replicate what they usually hear and see on TV from famous grounds around the world, so forgot to be disappointed and even angry about what took place. Either that, or they were kidnapped by a happy-clappy cult.
Ricki Herbert's All Whites didn't score an influential goal in the two-game tie. Herbert's Horrors were so disorganised that the first bloke to grab the ball - the wrong bloke - got to take a penalty, like something from a park game.
Morgan is also correct in calling for a new national playing style that places a premium on skill. Well done Mr Morgan, but your words will fall on deaf ears in the halls of power.
Ban the charge down
Rugby rule change suggestion number one: Scrap the conversion charge down.
Aaron Cruden got a dubious second crack at his winning conversion in Dublin, but the greater injustice would have been a charge down determining the result. Modern day goal-kickers face enormous pressure and analysis, and respond with extraordinary composure and skill. They do not deserve to be undone by random, undefended and unskilled charge downs. Kickers should be allowed as many twitches as they like within the time limitation. On that score, Jonny Sexton took too long - for his own sake - with the botched goal kick that would have won Ireland the game.
Extend the video referee
Rugby rule change suggestion number two: The video referee adjudicates on kick-offs, to determine if players are offside.
I say this in response to a reader's email, following the All Blacks' match in Paris when France transgressed behind the referee. League stations referees near a touchline at kick-offs, but rugby needs the whistler to be close to where the ball lands, to rule on air tackles, for instance.
Sad tactic taking over
Brazilian Emmerson Fittipaldi, the former motor racing ace, has called on sport to play a bigger part in solving world conflicts.
I dare say he hasn't heard of the Ashes cricket series, where grown men hurl pathetic insults while former greats cheer them on - which is not to say there haven't been funny and clever verbal exchanges in cricket over the years. The quality has gone downhill though.
Sadly, impromptu jousts in the heat of battle have been replaced by disgusting personal insults that are now a tactic.