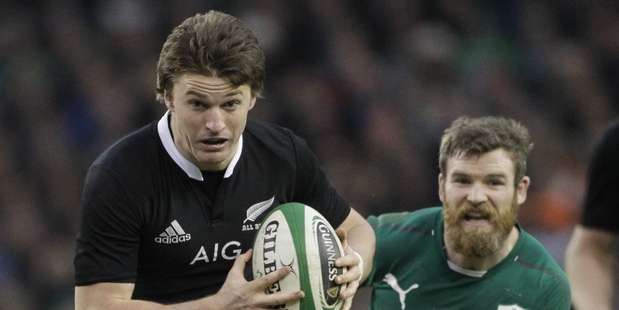 The impact the All Blacks substitutes are making became obvious on their Northern Hemisphere tour.
Beauden Barrett looked like a match-winner at Aviva Stadium when he came on in the final quarter. His power and ability to break tackles helped put the All Blacks on the front foot. And how they needed something or someone to do that.
Ryan Crotty didn't have to do a lot for his try as the All Blacks mounted their desperate comeback, but he was extremely tidy after coming on. He straightens the attack well and is an excellent defender.
Dane Coles, on after halftime for Andrew Hore, had the presence of mind to slip the pass to Crotty, and Ben Franks made his presence felt. His try built on the comeback.
Afterwards coach Steve Hansen paid credit to his 23-man team and it was thoroughly appropriate. Test rugby is all about depth.
For Crotty, it was the end of a superb year. He started every match for the Crusaders and Canterbury and has added something from the bench every time for the All Blacks.
"I guess I was Johnny on the spot a wee bit there," he said of his try. "I owe Colesy a few beers over the summer, he gave me a nice wee offload there, a good plum. [I'm] excited, very proud, I guess I can rest easier over the summer."
Although referee Nigel Owens sent it to the TMO for approval due to hints of forward passes from Aaron Cruden and Coles, Crotty was sure it was legal.
"I thought it was well back. I thought that would have been tough to take it back for us.
"I had it in mind that there was a kick to win and I tried to get closer but the fullback came across and I thought I didn't want to be the guy to knock it on over the line, to put the damn thing down and back Cruds to nail it.
"Azza has kicked a few clutch kicks against us [for Chiefs v Crusaders], it was nice for him to nail one with us on the same team."
Crotty said his try was the highlight of his rugby career. "It's right up there. Very special."
- APNZ