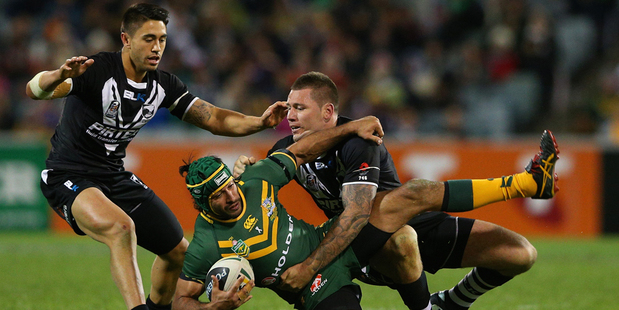 The Kiwis pulled off a World Cup stunner to sneak past England but their last-gasp semifinal win at Wembley doesn't give huge confidence for the final against Australia.
The Kiwis broke acceptable codes of conduct to get Sonny Bill Williams into their squad with the heartless sacking of Tohu Harris.
But without SBW they could have been pulverised at Wembley by a limited England side who were led by among the most amazing prop double acts you will see in a test match. Any Kiwis' claim to having the finest front row combo took a shellacking from the Aussie-based Sam Burgess and James Graham.

Burgess is a mountain of a man with the heart for battle, power, speed, a step, pass and, most importantly, an immense x-factor presence. If Burgess is already league royalty, Graham is its working class hero who just never gives up. Quite frankly, they embarrassed the much-vaunted Kiwi props.
SBW was the cavalry in probably his best test performance. There is almost nothing he cannot do but it was his physical commitment that stood out, although his game continues to contain strange defensive lapses.
SBW's heroics won't be enough against Australia if a few more teammates don't come to the party.
The big fear is that the Australians will find too deep a well of opportunity against Bryson Goodwin in the centres. Coach Steve Kearney must surely be considering a sticking plaster solution, probably Simon Mannering. But there are defensive holes in this Kiwi side and Johnathan Thurston is just the man to find them.
Without knowing the injury situation, a side containing Goodwin, Jason Nightingale and Elijah Taylor has too many ordinary contributors and there is still a hit-and-miss aspect to what Kevin Locke and Shaun Johnson do.
What a semifinal, though, of bizarre standards at times, yet a thrilling contest. The league World Cup has worked well for the English crowds, but fell off the radar in this part of the world. The games weren't meaningful enough to sustain wide attention and the All Blacks' march and All Whites' tribulations provided stiff publicity competition.
The World Cup roared into fabulous life in one semifinal, a cliffhanger for the ages, and fell into disrepute with the other as Australia romped over Fiji. Australia will be hamstrung by such inferior preparation but I can't see the Kiwis winning the Old Trafford final.
SBW will have to be at his very best and a first half shocker in the NRL grand final still hangs as a cloud over his ability to fire when it counts most. But he has the goods, without a doubt, and as the mighty Burgess and Graham showed in an English side with a fair few test plodders, one or two men can make an enormous difference.