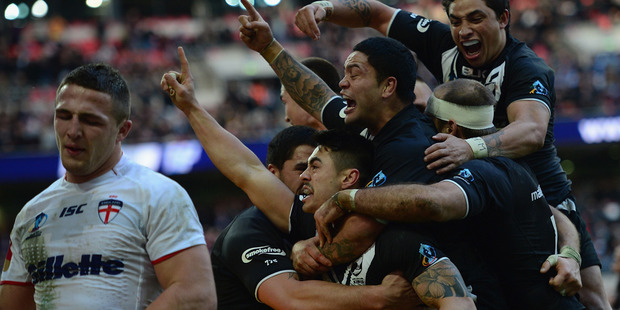 New Zealand Herald rugby league writers Michael Brown and Chris Rattue answers three key questions from the Kiwis' thrilling last minute semi final win over England this morning at the World Cup.
League: Kiwis into World Cup final in dramatic fashion
Did New Zealand deserve to move through to the final?
Michael Brown: Probably not. The England pack were excellent, led by the impressive Sam Burgess, and dominated the rough and tumble. The Kiwis just couldn't seem to find their rhythm - which had a lot to do with the way England were playing - but the crucial thing is they hung in there and gave themselves a chance to win the match. Good sides don't always deserve to win but find ways to win. They will be better for this game but they got an almighty fright.
Chris Rattue: "Deserve" is irrelevant. They won, but without playing great.
But it was a terrific match, the sort of heart-in-the-mouth semifinal that big sport is all about. It was a really dumb, needless high tackle on Sonny Bill Williams by George Burgess at the end. Terrific spectacle though.
What was the difference?
Michael Brown: In the end, it took two pieces of individual magic to win - firstly Dean Whare's amazing flick-pass while mid-air over the sideline for Roger Tuivasa-Sheck to score and then Shaun Johnson's jinking run at the death. Big plays from two players with big futures.
Chris Rattue: There wasn't much difference...New Zealand had better footwork and offloads but England were stronger in other areas. Sam Burgess and James Graham won the battle of the props.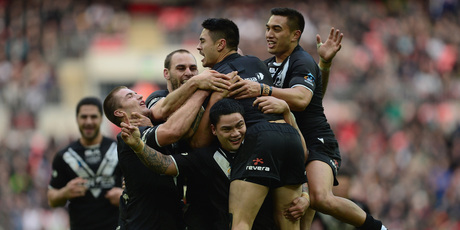 Can they beat Australia in next weekend's final?
Michael Brown: They can, but they will need to improve dramatically in all areas and will also hope key individuals are fit for the match. There were some very sore boys afterwards and their game was much tougher than what Australia experienced. The biggest doubt will be over impressive young winger Roger Tuivasa-Sheck, who needed to go for an x-ray on his right shin. It might be a bruise. It might be a fracture. The key for the Kiwis will be doing the simple things well, like getting to the end of their sets and building pressure. And, of course, absorbing plenty.
Chris Rattue: I'd pick Australia after watching that. They will be much better able to target New Zealand's weakness around Bryson Goodwin and should make fewer errors.
- APNZ